by Carrie Boyko, CEB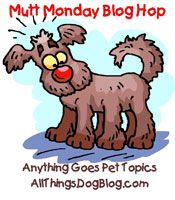 I love Mutt Monday, this new blog hop that has not yet caught a large following. If you'd like to see more variety here, or would enjoy adding your own blog posts for my readers to see, you can help by Tweeting it up a bit. Here's a sample:
#MuttMonday is an "Anything Goes Pet Topics" blog hop
@AllThingsDog ea Mon written by & 4 pet lovers. Join us! http://ow.ly/8ZNqv
© C Boyko
Stuffing Free Nylabone Monkey
Feeling lucky? Two weeks from today I'll
give away a great dog toy
, suitable for large or small fidos, just for entering a link at Mutt Monday AND/or tweeting about this blog hop. Simply add your link and/or leave a comment with the url to your Tweet. The winner will be drawn from entries and Tweets that are reported here in our comments, and announced on Monday, February 27. Good luck!
Rules? There really are not any, except we need to keep it family friendly and all about pets. See you soon!