by Carrie Boyko, CEB
© illustrations by

Gail Weissman
© photo by

Curt Biesterfeld
What About Daisy?
As parents we try to teach our children that being different does not make others "bad". It's a hard lesson, and one that parents often struggle with, as well.
What about Daisy?
shares a mother dog's worrisome adventure to find her pup a loving furever home. However, Daisy, her pup, is an unusual puppy. She doesn't play with her litter mates, come running when called, or show interest in much of anything. This worries Ms. Didi, her mother.
With a little help from friends along the way, Ms. Didi sets out to find a home for Daisy, her deaf and blind puppy. Author Maryam Faresh was inspired to write Daisy's story by her own, real-life Daisy. Daisy won the WAG award for the Most Inspirational Dog in 2010, and the 2011 Barkcode Hero Award. You can learn more about this amazing dog and her story at the website for What About Daisy?
© Curt Biesterfeld
Faresh with Daisy
At this site you can also view an entire library of family videos of Daisy's life, enjoy activities for children, order a copy of the book, and much more. Her story is one of overcoming adversity--inspiration for all ages.
We'd like to help Faresh spread the word about this refreshing and inspirational book. We'll be giving away
3 signed copies
and there are a number of ways you can win. You may enter once each day using any or all of these methods:
Entries will close on Monday, May 16, 2011 at 5 PM. The
winners will be announced
here on the blog on Tuesday, May 17. Good luck!
If you prefer, you can also purchase a copy through Amazon.
Other Book Reviews You May Enjoy:
Darby's Story: The Life of an Adopted Dog
THE Book for My Rescue-Loving Readers: Oogy
Assistance Dog Stories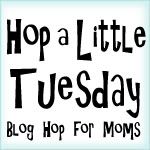 In order to get the word out to more moms out there about this wonderful book giveaway, we're linking up to Hop a Little Tuesday's blog hop, and also Free Hot Samples. Have fun exploring. Be sure to let our hosts know you appreciate their efforts. Comments are always welcome.