by Carrie Boyko, CEB
Buffer
I'm Bored!
It all started like this. Oliver had an allergy reaction to a new, scented candle in the house and next thing you know he was chewing on some exposed skin from last month's surgical area. One thing quickly led to another and we had to resort to the cone.
After a few days of the prescribed treatment, Oliver's hot spot was much improved--dried out and healing nicely. It was time to give him some "out of the cone" time to regain his sense of self. Or should I call it 'dogliness?' The best way to assure that Oliver would enjoy the adventure and not pester his healing hot spot was to keep him walking. So off we went on a long weekend adventure to St. Augustine. If you follow me on Instagram, you may have seen that we took just a few photos.
Mt. Matanzas National Monument
A Great Place for a Picnic
St. Augustine is a terrific place to explore on foot. And when you're a 10 lb. Papillon, 3 hours of walking the town is enough to wear you out for sure. We saw everything--the fort, the pirate ship, the old cemetary, the churches, some really cool historic shopping areas, and lots and lots of ice cream shops. It's amazing how many people were eating ice cream when the weather was in the low 50s. I would have loved to enjoy another Ghost tour, but was just plain exhausted after walking all over town for 3 hours. It was time to get off our feet and relax with a leisurely dinner.
Back at the campground we bundled up as best as we could (Florida folks don't generally have much to bundle up with!) for a chilly night and tested out the heater at bedtime in our new RV that I've dubbed the Green Machine. I'm bound and determined to figure out how to make RV camping a greener activity, as coming up with Eco strategies has long been a passion of mine. Success is on the way; watch for more tips coming soon.
Ahoy Mateys!
One thing I've discovered so far is that I naturally use less water and electricity while camping. That helps to compensate for the extra gasoline. In addition, we did buy a high-efficiency diesel model that gets 18 mpg and is much better for the environment than regular gasoline. I'm learning that this is better gas mileage than many pickup trucks or larger SUVs, although it will never match my Prius that gets 50 mpg. We're getting there though.
The pirate ship was a fun new find. I don't recall this cool sight when I was here about 15 years ago. There were actually 2 of them--a small (far left) and a larger one. Don't miss these if you go; the harbor is beautiful and you'll also want to enjoy the historical shopping district just across the street. There's a large dog relief area at the entrance to the ramp that leads to the pirate ship, so we stopped there and took care of Oliver's business in the warm sunshine, greeting a few other dogs and their owners. St. Augustine is clearly very dog friendly; yay!
Thanks Mom!
After a delicious roast chicken, blueberry muffins and some fab organic brussel sprouts (my favorite veggie), we were all stuffed and ready to relax for the evening, off of our aching feet. The RV has 2 captain's chairs and an upholstered booth that seats 4, so there was plenty of room for everyone--furry and otherwise.
With the dishes done and all clean up complete (Yes, we have a full bathroom on board!) we snuggled in for a long Winter's nap. Oliver was a great bed warmer. He snuggled up against me all night, and was in no hurry to find the little boys room in the morning. I did get a nice smooch from him that I trust was his thanks for getting him out of the cone and the house. What a nice trip!
Tell me what your plans are for Winter getaways with Fido. Even dogs can get cabin fever, so cone or no cone, think about taking a short trip to enjoy a change of scenery and have some fun. It's a terrific way to bond with your dog, and doesn't have to cost much. By camping and eating in (no meals out during our adventure) we had a very budget-savvy mini-vacation. Tell me about yours.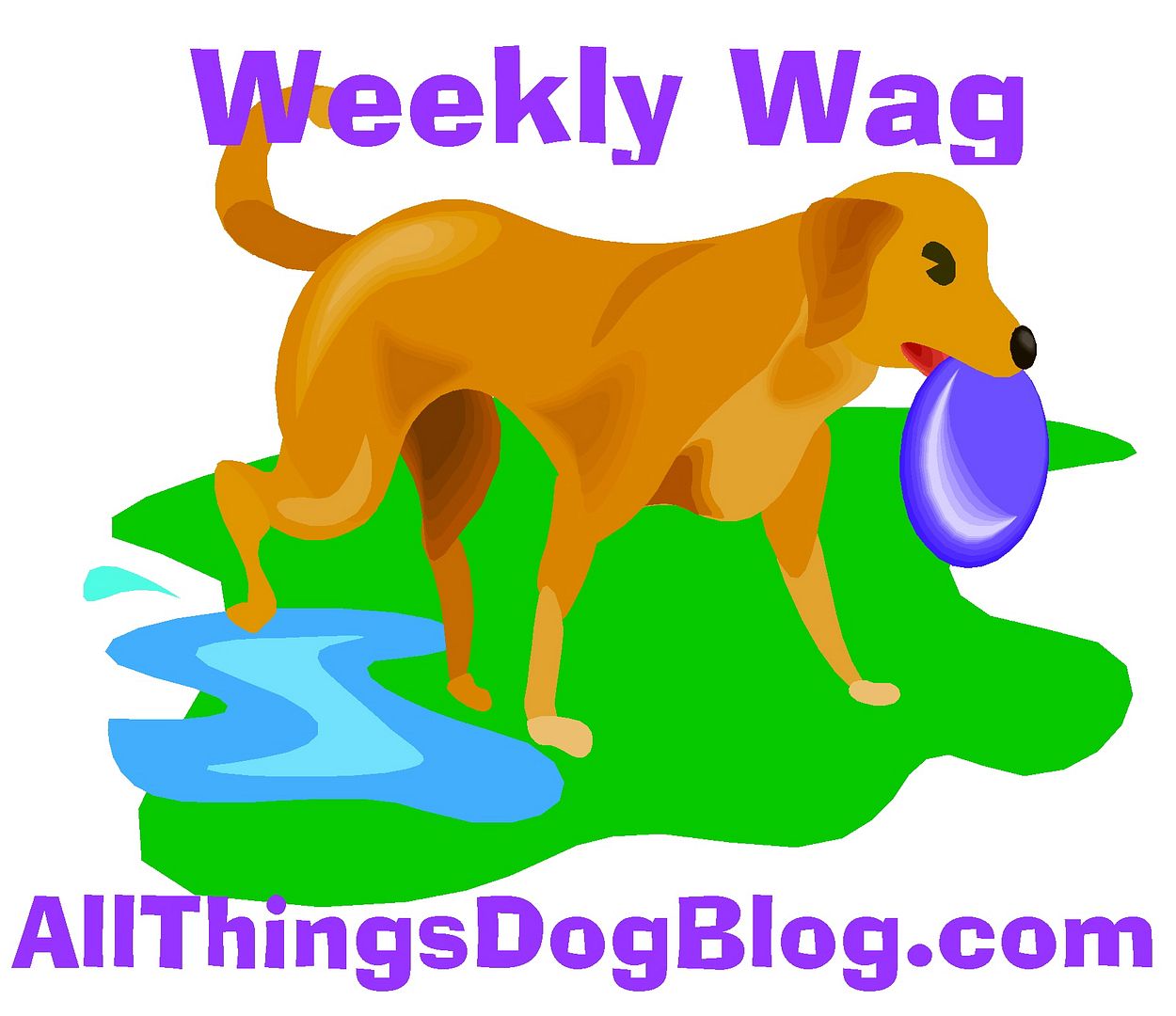 I'm glad to finally return to posting the Weekly Wag. My holiday respite and the Super Dog Sunday™ Charity Blog Hop events to support Petfinder Foundation have rather gotten in the way of my routine. It has all been well worth it though. That said, have you visited the photo contest yet? It's off to a great start. Check it out at the link. Entries close at 6 PM ET on February 2. Here are some tips for joining in.

Join us each Saturday for the Weekly Wag, our bonding series that shares inspiration, tips and ideas for bonding with your dog.