by Carrie Boyko, CEB
© AllThingsDogBlog.com
Fetch-n-Drop Game Makes Tanner Think
Hi there, I have a Golden Retriever who seems to have boundless energy. He wears me out every time I take him to the park. What can I do to make him more 'manageable' and and tame all of that energy? Is that even possible?
Alana on Dog Park Bonding Activities
-----------------------------------------------------------------------------------
You're not alone; many owners of young, active breeds have experienced what you are going through, myself included. I applaud you for asking for tips and would love to share some ideas with you that have worked for Tanner, my spirited Golden Retriever in the photo above:
First of all, you're off to a great start with socializing your energetic dog in an active environment. Allowing him to run off some of his excess energy as often as possible is an excellent way to start the process of quelling his over-active lifestyle.
If Fido remains behind each day while you work, he may need a mid-day walk or a regular trip to doggie daycare, giving him yet another chance to exercise and burn off some steam. Dogs do get cabin fever, just like us!

Working with your dog on training activities is a different way to drain energy, by using his brain. Try to squeeze in two 15-minute training sessions each day and soon your dog will be easier to manage and better trained as well.

Teach your dog to swim and locate a safe, nearby place for him to get some wet time during the warmer months. Swimming is an outstanding form of exercise that is easy on the joints and terrific exercise as your dog ages.
Younger dogs often enjoy biking beside their owner. My dogs and I love this activity and have found it to be a great way to speed up the exercise session on those days when I have a serious deficit of time for their much-needed walks.

Offering mentally stimulating games to your dog will be additional brain work that is also fun. Puzzles, treat balls and other such games keep your dog's body and brain working to figure out how the game works. I recommend food based puzzles if your dog is food-motivated.

Adding a backpack to your dog during his walks gives him a new challenge and something else to focus on, in addition to the extra weight which makes the job a bit more work. During a walk that includes a backpack with bags of rice or beans in the pockets, your dog will have to concentrate on his gait to control the swing of the cargo, while keeping up with your pace, even as he is carrying extra weight. The result is a more tired pup when you arrive home.
If time allows, look into other group activities such as Rally, Frisbee, flyball or agility. Each has its own differing skill requirements, so ask lots of questions and be sure to visit and observe before making a decision. Whatever choice you make, your dog is likely to enjoy the time with you as well as the learning experiences that will help him sleep very well at night. The same goes for you!
© Kim Litz
Skye Flies Through the Tire
I hope these ideas will help you get your dog's high energy under control. If your Fido is a lover of water activities, and you have water available, try teaching him to play Fetch games and you'll find there are many ways to advance the game beyond simple toss and return on posts here at All Things Dog Blog.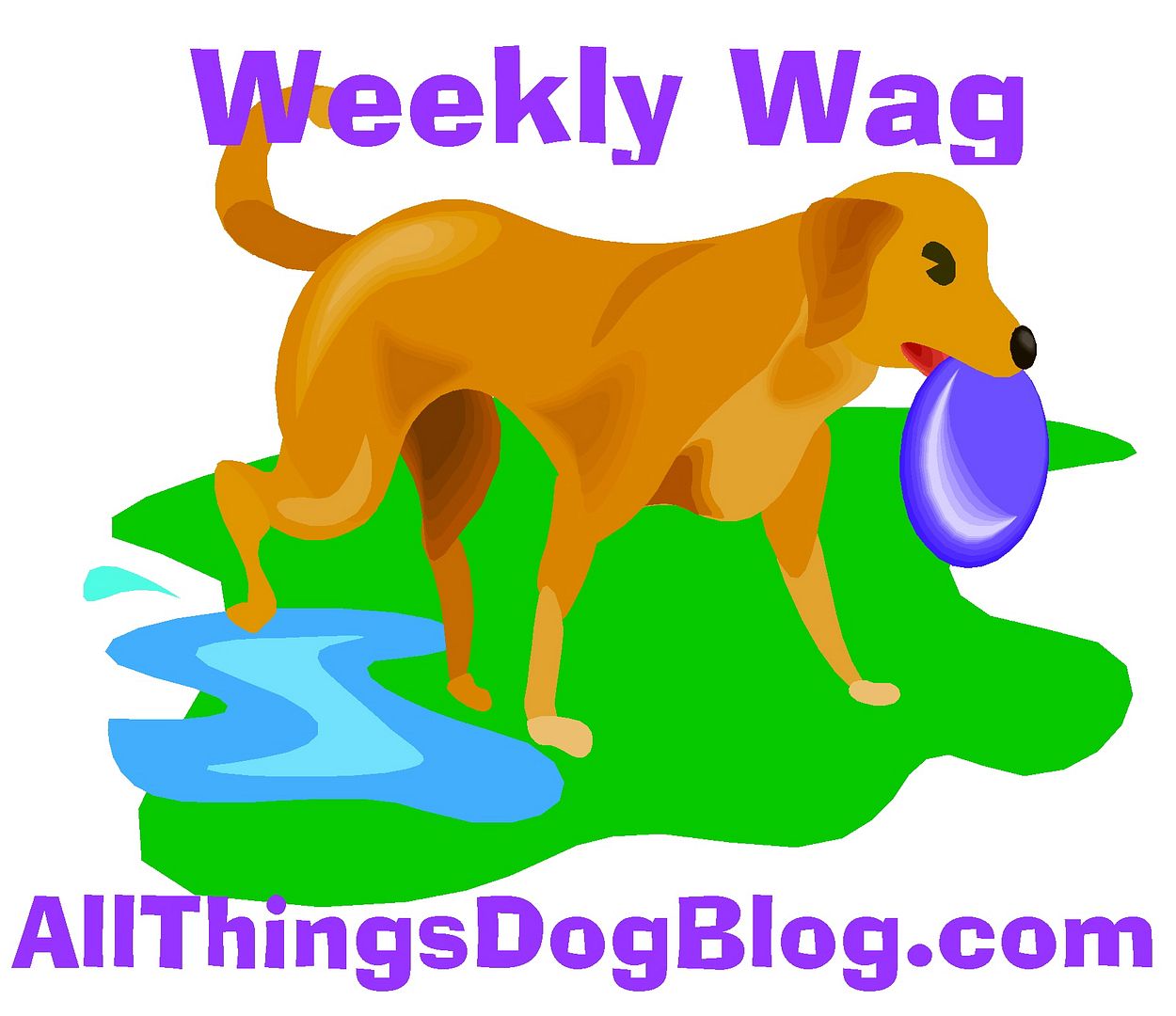 Finally, keep in mind that all of the above activities are designed to aid in bonding between you and your dog. As you grow closer, your pup will begin to return to you for affection and a "check in", while visiting the dog park. This will offer you another opportunity to praise him for his increasingly calmer behavior. Be sure to use treats and praise frequently during these training sessions, but do leave those treats at home when you visit the dog park. That's not a great place to find out which dogs are food-aggressive; better safe than sorry.








Join us each week for the Weekly Wag bonding series, held during the Saturday Pet Blogger Hop. The hop is hosted by Life with Dogs, Two Little Cavaliers, and Confessions of the Plume. You are welcome to link up here, or check any of their sites for their rules of participation. Happy hopping!