by Carrie Boyko, CEB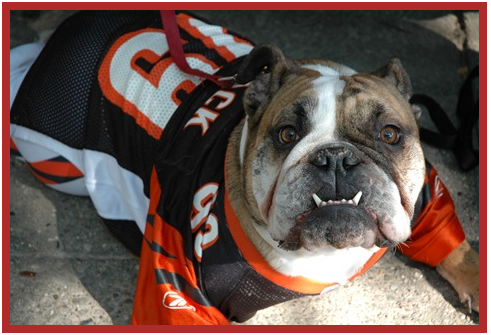 © copyright on file from
Super Dog Sunday 2011
© Cooper and Lola
Take a themed photo! Poses, costumes, scenes, sets, you name it! Of course, if you do this, you'll have to enter your photo in a contest just for fun. It just so happens that All Things Dog Blog and Dogtipper are hosting an NFL-themed photo contest on February 5, 2012. We have some great sponsors who have contributed generously to
Petfinder Foundation
, and we'll be giving away bunches of cool prizes. It's called
Super Dog Sunday
, and you are invited to participate. All you need is:
a pet to photograph

a camera

one or more football-themed props

treats

and maybe a little patience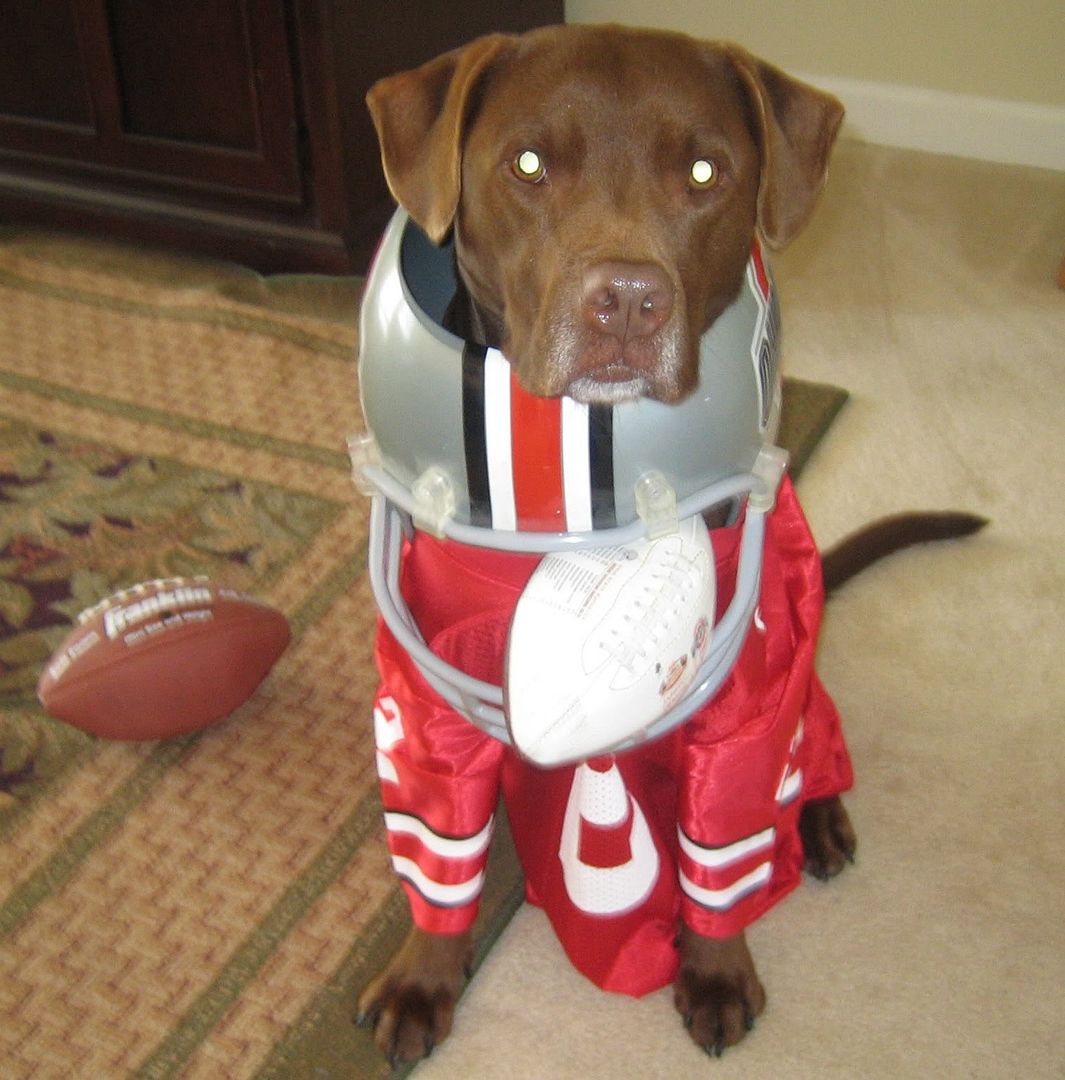 © copyright on file from
Molly on Super Dog Sunday 2011
This is a great opportunity to practice your dog's Stay command more, after last week's Weekly Wag work on getting Fido to Stay put while you run. Come up with a plan that's simple enough for your pet to endure. Some of the cutest submissions last year came from the simplest techniques. For instance, Cooper and Lola's owner bought a piece of fabric with her team's logo printed on it. She draped this over a chair and placed Fido on top for a few quick pics. Quick and painless!
Molly's owner discovered that Molly is quite amenable to costuming, as you can see from the photo at left!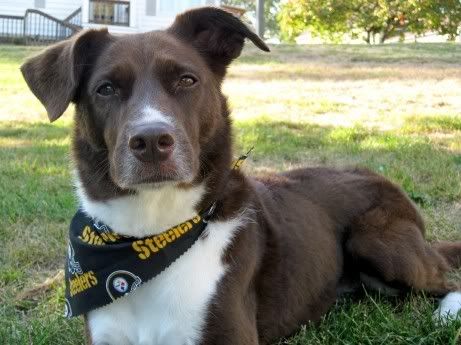 © Success Just Clicks
Finally a Steelers Fan!
Of course you can also place a football on the floor with your pet and snap some shots. Maybe take a few of Dogtipper's ideas like getting down at the pet's level to snap your photo and using a contrasting background for your setting. These are great tips that will work for even the most amateur of photographers, like me!
Other great props that will work easily if you have access are:
Team-colored bandanas, as you can see above submitted by Success Just Clicks.

Team jersey, Tshirt or hat

Football helmet or shoulder pads

Balloons like Snyder below

Anything with an NFL logo on it--dog dish, Tshirt, leash, etc.

Figurines of football players or cheerleaders would look cute.

Your grass could make a good playing field with a stripe and a 50 yard line drawn on with paint or cutouts of numbers.

Even a trash can works for Leinie!

Use your imagination and you'll probably come up with lots of additional ideas, like the newspaper sports section, the NFL website on your laptop, or maybe even a striped Tshirt for a referee. Every game needs one!
© Freaky Dog People
Snyder is "Playing the Field!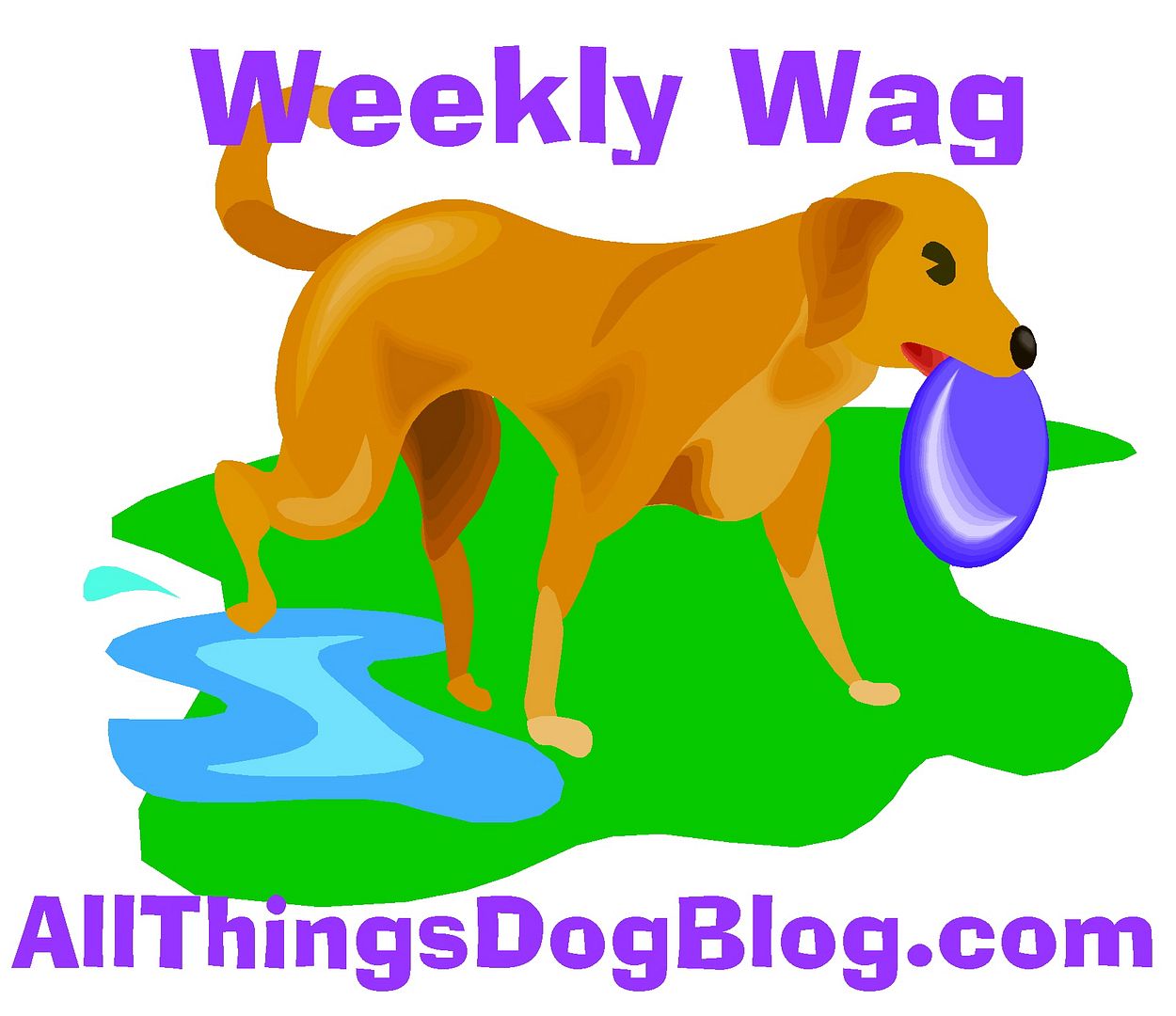 I hope you'll leave some comments telling me about your experiences with this, or any other Weekly Wag. If you'd like to make these bonding exercises a part of your weekly routine, you may want to join the group so you can win prizes. Just follow the link below to learn more. Have a great Wag!

Missed a Weekly Wag? Or just want to sign up to win prizes for participation? Check these out:
Scentwork: Great Fun for Fido!
Stay and Come to Get in Shape








Today's post is a part of the Saturday Pet Blogger Hop hosted by Confessions of the Plume, Life with Dogs and Two Little Cavaliers. Feel free to link up here if you wish, or visit their sites to view their rules for participation. Happy hopping.