by Carrie Boyko, CEB
No more telethons or door-to-door solicitation. Those days are over. Today's animal welfare events have the wonders of the Internet on their side--secure online donations via Paypal and credit card make it easier than ever for pet lovers like us to raise funds for our favorite charities.
What's more we now have a new invention--the Twitter Party--which allows us to attend a party in our pajamas, not worry about cleaning house, creating tasty appetizers, or fixing our hair. I'm loving this new frontier!
A recent report by NPR indicated that a small amount of growth is forecast for 2012, making things likely to look up for pet charities as well. This is positive news for rescues, humane societies, the SPCA, and adoption groups like Petfinder Foundation.
If donating is not in your budget, think about getting involved on the other side--organizing a charitable event. Since I am midway through a Petfinder Foundation campaign with Dogtipper currently, I can tell you it is a great feeling to climb into bed each night, knowing that although I'm totally fatiqued, I'm doing something to help homeless pets find new homes.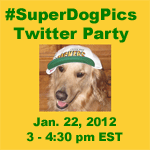 There are other options as well. Volunteering at a rescue is tremendously fulfilling to most animal lovers. And I can tell you from personal experience that fostering is time-consuming and challenging, yet still gratifying, especially when a forever family signs the adoption papers and you know you've helped that new furry friend get through the transition to a new home.
Charity does not necessarily have to come from your wallet. Look for ways to support the charity of your choice without breaking the bank; it's a Win-Win!









Are you itching to try out a Charitable Twitter Party for the first time? Join us for #SuperDogPics January 22 from 3-4:30 PM EST. Be sure to RSVP at the link so you'll be eligible to win prizes. Petfinder, Dogtipper and All Things Dog Blog thank you for your support.