by Carrie Boyko, CEB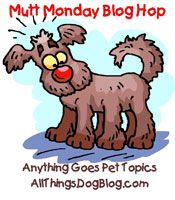 Times could not be any busier. Tomorrow I'll be moving my mom closer to me, along with her little Papillon, Jacque. Perhaps you'll occasionally get to see a new face in some of my photos. Don't hold your breath, though. This fella is not keen on "Stay", so I'll have to work on his posing behaviors.
Next week Dogtipper.com and I will be bringing you #Gamma2Fresh, a short and spicy Twitter Party by us with our Event Barkers Team that will focus on fresh pet food, solutions, and some great G-Men action. If you enjoy drummers, this video is for you. Check it out and feel free to Tweet about it with the hashtag. You could win a free Vittles Vault!
The following week I'm off to Blogpaws in Salt Lake City while the fam looks after the pups. That ought to be interesting.
I'm sure to learn a lot, meet new sponsors, be inspired, catch up with old friends and make some new ones. Let me know what you'd like me to share so I can start getting organized. Do you want photos? Workshop info? Blogger info? You tell me...
For now, let's just share our posts from the previous week, allowing for a recheck of anything we missed. Feel free to post as many recent posts as you'd like.