by Carrie Boyko, CEB
© All Things Dog Blog & Dogtipper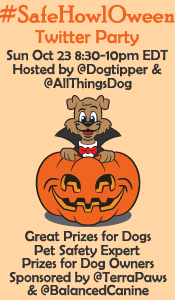 Is it time to let this dog out of the bag? Actually there are cats in this bag too. Between us, Paris and I own 4 dogs and 5 cats. I have a history of pets beyond Tanner, Oliver and Patches--more cats than I can count, dogs like Xena and Sable, a Parakeet named Peekaboo, one Hamster, 5 Goldfish, and a couple of foster dogs that found forever homes. Sounds like that ♫ Twelve Days of Christmas song ♫, right?!!
Needless to say our households give the pet stores and veterinarians more than their share of business. That's why Event Barkers was formed, to assist pet businesses in getting their information out through the social media.

Since our first party back in October, #SafeHowlOween, Paris and I have come a long way. We have worked for months to learn our new craft and hone our approach. Currently, we have planned and executed 4 events, and more are already scheduled. With #BarkFriday's success, we decided it was time to turn Super Dog Sunday into a charity event for the masses. After all, what's not cute about a pet with a football in a photo?
Last year's Super Dog Sunday™ was fun, but this year's event will blow your socks off. Thanks to our charitable sponsors Wag, PetHub, Tom Bihn, and Gringa Loka, Super Dog Sunday will be infusing Petfinder Foundation with a tidy sum to help with their work finding homes for adoptable pets. We're proud of that and want to thank you all for helping us get here. Without participants at our Twitter Parties, Blog Hops and other events to come, the Event Barkers partnership would not have come out of the doghouse.
We hope you will join us at #SuperDogPics for a taste of Event Barkers fun. Our guest expert, Brett Chisholm of Life + Dog magazine, will be offering photo tips for your Super Dog Sunday™ photo entries, while we are also having some fun chatter and bunches of prize handouts. With thousands of dollars in prizes up for interception, what have you got to lose? RSVP here and join us on Sunday, January 22, 3PM-4:30 PM EST.
Curious about the prizes? Stay tuned for more details this week. I'll be spilling the kibble soon. And believe me, you'll want to catch those touchdown passes. It's that good!
Event Barkers happenings will be fun, themed affairs that will share a variety of pet product companies, services and goals. What can we help you promote?