by Carrie Boyko, CEB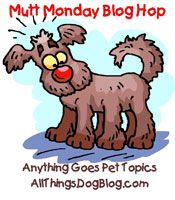 What an exciting last week it has been, preparing for Super Dog Sunday and the #SuperDogPics Twitter Party. We are so pleased to be joined by Dogtipper as a cohost and extremely excited to have sponsors supporting Petfinder Foundation this year. Even more, we're tickled pink that we have thousands of dollars in prizes to give away at the two events. We hope to see you all there.
Today's blog hop is an Anything Goes Pet Topics hop. Join us by linking up if you'd like to share a post or several, if you like. Please leave your comments below on any topics or events your find particularly fun, helpful or exciting. Happy tails!