by Carrie Boyko, CEB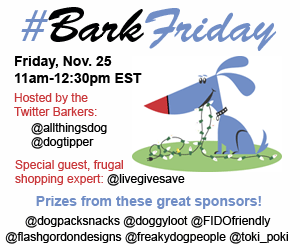 We had such fun at the SafeHowloween party that this was inevitable. Besides, the holidays are a time for celebrating. Our theme this time is saving money. Who doesn't love to celebrate savings?!!!
Join the Twitter Barkers, @AllThingsDog, @Dogtipper and our guest host @LiveGiveSave for a whole lot of savings ideas, tips and tricks. Oh, and of course there will be a ton of prizes! The prizes will be even broader this time, with more variety, and simply put, MORE!
Prize sponsors include @DogPackSnacks, @DoggyLoot, @FlashGordonTags, @FIDOFriendly, @FreakyDogPeople, @Toki_Poki, and more. There will be multiple opportunities to win with surprise drawings from RSVPs, pretweet drawing, a Rafflecopter drawing, and bunches of prizes to be given out during the party. Here's what you need to do to join the fun:
Who: All Twitter users, new ones included
What: #BarkFriday Twitter Party for savings tips and great pet prizes
Where: On Twitter, of course! And don't forget your hastag in each tweet: #BarkFriday
When: Friday, November 25 11:00 AM- 12:30 PM EDT (aka Black Friday)
Why: Money-saving tips and great prizes
How:
First, be sure to watch for additional posts on our sponsors, your guest expert, and helpful tips on playing along in the Twitter Party.

Join in the conversation by using the hashtag #BarkFriday in each tweet.

To be able to win prizes, you must RSVP below in the linky list below. There is a link to some helpful tips if this is new to you.

Follow your hosts and sponsors to be sure you can win and receive DM notifications of winning.

To have an extra chance for prizes, you can participate in the Rafflecopter Extra Credit entries below the linky list.

Finally, make sure you sign up properly so that your Twitter handle won't get left off of the guest list. You'll find some easy, step-by-step instructions at this post: RSVP to Join the Fun.
If you still have questions, feel free to check in with us at TwitterBarkers@gmail.com. We'll be manning the inbox to make sure everyone gets the help they need. Happy tails!

Twitter Party Rules:
Follow your hosts and sponsors @allthingsdog, @dogtipper, @livegivesave, @Toki_Poki, @FreakyDogPeople, @DogPackSnacks, @DoggyLoot, @FIDOFriendly, and @FlashGordonDesigns.
Party open to anyone with a Twitter handle. Prizes are limited to the U.S. and Canada, with the exception of Quebec. Sorry Quebec residents; your laws do not allow us to give prizes to you :( Giveaways are void anywhere they are prohibited by law.
Canadian winners will receive a substitute prize for the Terrapaws treats due to border restrictions on shipping of pet food.
RSVP below and be sure to check in upon arrival at 11:00 AM EDT on November 25
Must be in attendance to win a prize. Winners will be DM'd to request address info.Canadian winners will also need to provide phone number.
Detailed rules for winning prizes on All Things Dog Blog may be found at my Giveaways and Contests Rules page.
If the Rafflecopter entry form does not appear here, simply click the post title and it will magically appear just beneath this line: