by Carrie Boyko, CEB
© Carrie Boyko
Dog Parks Provide
Great Off-Leash Run Time
What's the goal of your dog's daily walk? All too many dog owners feel it should be a bathroom break, but I'd like to open the possibilities for Fido to get a bit more out of it than that. Right now while I'm recovering from a leg injury, I need all the change ups I can find--the backpack being my #1 tool.
© Carrie Boyko
Frisbee and Fetch
are a Great Quick Exercise Stand-In
Dogs in the wild walk all day. This is their job, whether it is to get from point A to point B, or to find food or shelter. The truth is these dogs often get more of what they need in life when they are not a pet dog. Sure, we give them 2 squares a day and a warm bed to sleep in. But do we fulfill their other needs?
© Carrie Boyko
Oliver Takes a Summer Swim
Dogs need to solve problems, discover new smells and have adventures. They need to meet new dogs, new people and new places. All these experiences bring more richness and thrill to their life; they'll sleep better and feel more satisfied when their senses have been challenged and their bodies exercised. These changes in daily experience can be offered through giving a different type of exercise as a routine. Try some of these ideas on for size:
Take Fido with you on errands that don't require leaving him in the car--the bank, drive through restaurants, a pick up pharmacy--whatever works. He'll enjoy the smells, sights and fun of wondering where he's going next.

Identify nearby parks and change up the walk by taking a hike through nature. Fido will enjoy seeing something other than your neighborhood cats, even if it is just a squirrel or two. The smells of wild animals will be abundant to him and that will do the trick. He'll snooze peacefully tonight.

Take some different turns during your neighborhood walk and find another route. Perhaps there's a street he's never explored. Give the opportunity to experience every possible route that might bring some new sights or scents--even a new friend.

Turn your dog walk into more of hike by allowing Fido to do a job. Placing a dog backpack on him, he can carry your water, house keys or other necessities. What's interesting about this job is that he'll have to concentrate on walking straight and smooth, so as not to get the backpack swaying like a mother's full teats. It's a whole new experience that will have your dog concentrating on his walk, and at the same time, return fatigued and ready to rest.
Got a boat? Grab a helper who can hold Fido securely, and take him along. Don't forget the canine lifejacket to be on the safe side. If he's a bit skittish about this new transportation, keep in mind that he'll soak up your energy. Ignore his nerves and offer him tons of confidence, acting as if this is nothing out of the ordinary. He'll pick up on your vibes quicker than you think.
How about a bike adventure? Running beside a biker is a terrific mental challenge for your dog, as he learns to follow your lead and watch the turns carefully. He will instinctively know he must remain clear of the wheels, yet follow your confident tone as you tell him he's a good boy. Be sure to hold on to the leash loop lightly, just in case Fido darts at a squirrel or neighbor for a quick hello. We don't want YOU to go flying! Check out this link for some tips on getting started.

If you're into running or jogging, Fido will be right there at your side. He'll enjoy the camaraderie and unless he is a senior Fido, will generally be able to match your pace, as long as you're not a marathon runner!

Don't neglect some of the quickie ways to fortify your dog's exercise--both mental and physical--with swimming, fetch games and Frisbee or ball games. All require physical sprints and plenty of problem-solving to keep Fido's mind active while he plays.

Dog friendly beaches are an interesting new place to take a walk or run. Fido will find a plethora of new scents and sights, while trying to figure out what's up with the water coming and going. This is a great way to stimulate his mind, and you can be sure he'll sleep the whole way home, satisfied from a day of stimulation, fresh air and exercise.
Tanner and Oliver Love to Bike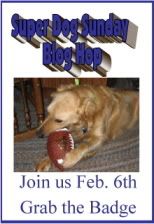 Help protect our precious dog parks
© Carrie Boyko, all rights reserved
Follow All Things Dog at Twitter
Find me at Facebook
© copyright Carrie Boyko, all rights reserved
Bookmark this on Delicious