by Carrie Boyko, CEB
Total Engagement; Love It!
I'll be the first to admit that the day of this workout we had a breakthrough. This was the first time that both dogs were actively participating in some way. Woohoo! Thankfully the camera was clicking away. What seemed like 600 shots into the shoot, I found a few gems. Enjoy: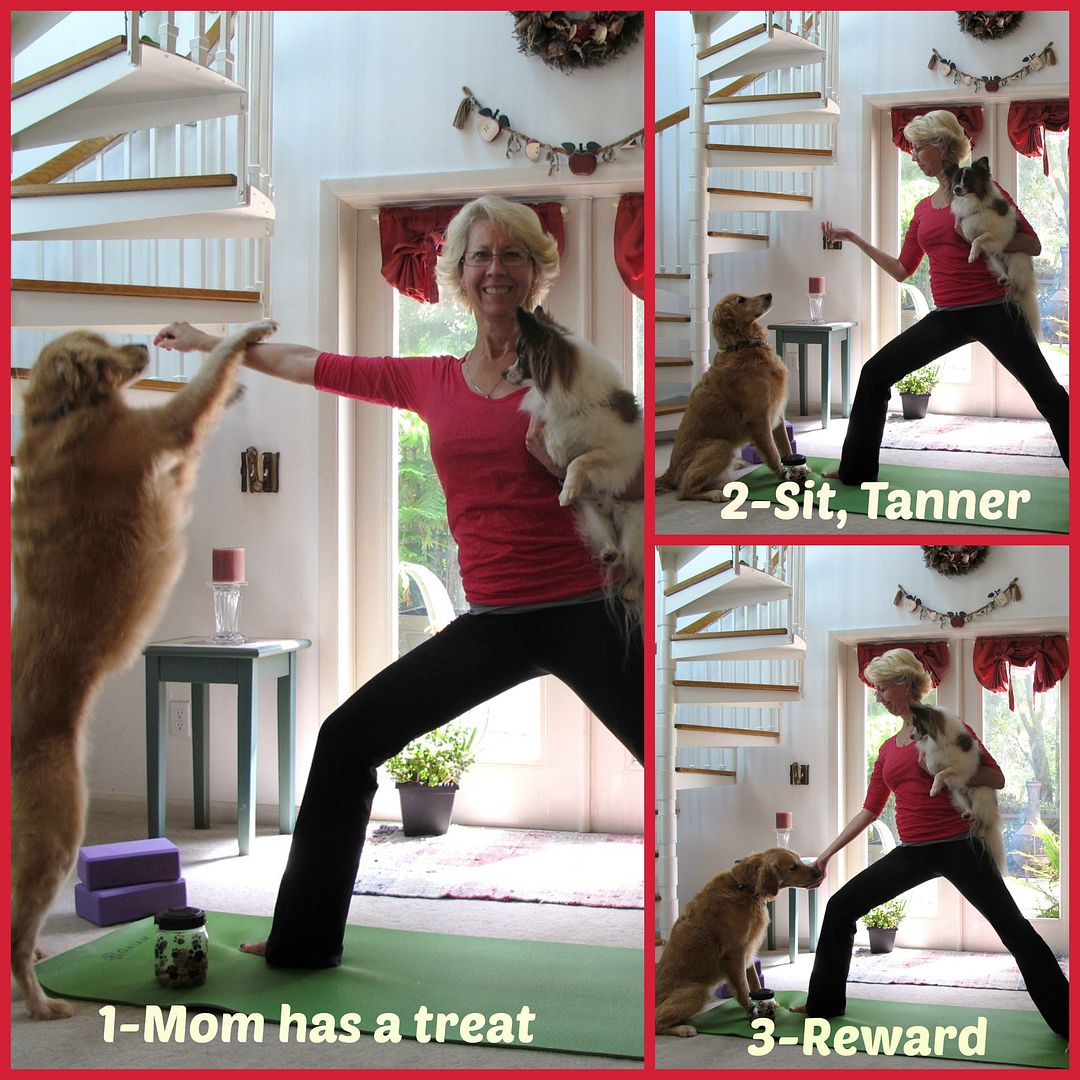 If anyone deserved a reward, it was certainly Tanner. He has been the most patient Doga partner imaginable. Since more of my practice to date has been appropriate for involving Oliver, Tanner has simply sat and watched. And yes, he has almost fallen asleep on a few occasions, but not today. I had a treat in my hand as I was working on Warrior II, and Tanner realized it. I'm glad I had a chance to pay him off for all his patience. What fun!
Now it's your turn to enjoy this wonderful, empowering pose:
Relax now, and let's use this time to grab a little yoga wisdom from the Yoga Journal:
When you contract and stretch muscles, move organis around, and come in and out of yoga postures, you increase the drainage of lymph (a viscous fluid rich in immune cells). This helps the lymphatic system fight infection, destroy cancerous cells, and dispose of the toxic waste products of cellular functioning.
Our first six poses, published earlier, are at the following links, as well as at our dedicated Doga page. We hope you enjoy following along and that you'll offer your comments and ideas for incorporating your dogs easily and safely into your practice, either here or at our special Facebook page, just for our Doga enthusiasts. The comment link is always open at the bottom of my posts.

If you're new to Doga or Yoga, please be sure to do these three things: (1) Get your doctor's permission to start this or any other workout, (2) Check with your vet to make sure your dog is able to participate in simple Doga exercises safely, and (3) visit our introductory post where I've outlined a few tips that will help your experience go more smoothly and enjoyable. Keep in mind that you can always stop if a pose is uncomfortable, returning to a relaxing pose.