by Carrie Boyko, CEB
A while back I was picking up some canned food to use for an occasional kibble topper. I saw the new Butcher and Bushel by ORGANIX, and knowing this brand and their high quality, I grabbed a can of the Chicken Wing and Thigh Dinner with Fresh-Harvest Sweet Potatoes and checked out quickly. It seems I'm always in a hurry these days!
Fast forward to dinnertime when I opened the can. You may have heard me gasp. There was a thigh bone sticking out of a chunk of meat, looking very suspicious, yet at the same time, very tasty. I sniffed ever so carefully and conjured up a positive image of chicken stew on the stove. Yet how could this be? A bone in a Castor and Pollux product? They KNOW that cooked bones are not safe for our dogs. I sighed. What could be going on?
I opened my laptop and pulled up Facebook, leaving a private message for the folks at Castor and Pollux Pet about my finding. In retrospect, I should have read the label on the can and consulted the website FIRST. There I go again--in a hurry.
After leaving a message I thought better of it and sat down to read the label and check out what was new on the Castor and Pollux website. Good thing I did. There, in plain text on the can was
A Note From The Chef
:
"Our slow cooked whole chicken wings and thighs offer marinated tender chicken cooked on a softened bone. This special cooking process makes the bones soft and safe for your dog to enjoy."
After reading this, I became intensely curious. It was exciting to hear back quickly from a Castor and Pollux representative to learn more. Pet food geek that I am, I needed to hear more about how this bone became softened, and moreover, what the nutritional effects of the process are.
I got all my answers, along with the link to a video by a veterinarian who further explains the safety of the bones, as well as what a healthy and tasty addition this can be for all dogs. It was especially thrilling to learn there are no choking or splintering hazards with this cooking process. The bone can easily be mashed between my fingers! Now, if only I had thought of trying this to begin with! #bloggermoment #blondemoment #seniormoment #gonetoofar
Butcher and Bushel offers 5 flavors of meals that have now all been a hit at my house. Since these meals are USDA Organic, they are a go-to addition to my dogs' diet. We make every effort to serve organic food to the dogs, even when sharing a carrot from the kitchen. The motto at All Things Dog Blog is: No more toxins for Tanner; only organic for Oliver. Organic means NO chemical pesticides, NO synthetic fertilizers, NO aritificial preservatives, No growth hormones, and NO antibiotics.
Try these flavors on for size: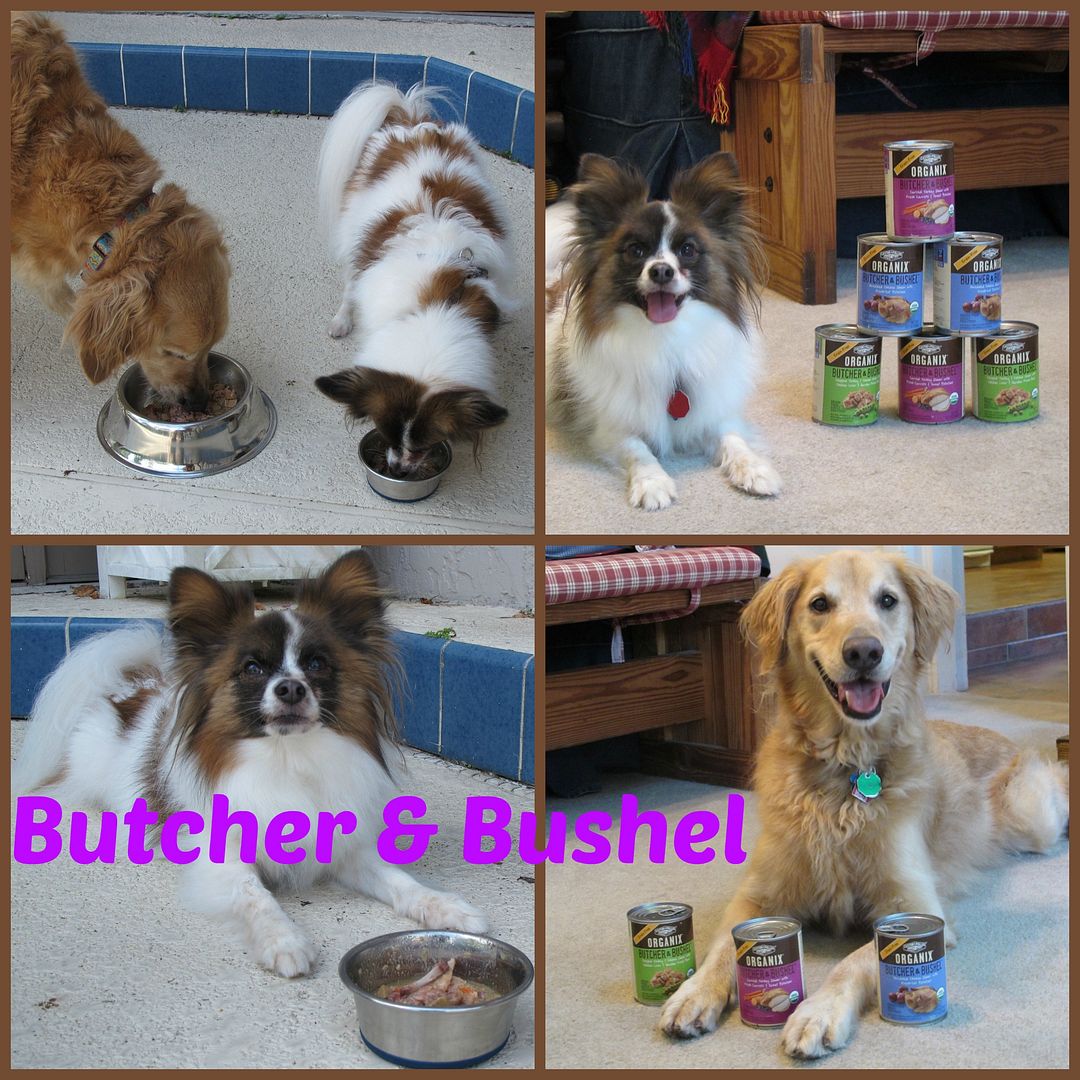 Note that feeding a canned food such as Butcher and Bushel requires a bit of tweaking to Fido's dietary and digestive needs, particularly if he is accustomed to a kibble diet. You'll want to pay special attention to following the slow transition, gradually replacing a small amount of his current food with the new food. This easy switch will allow your dog's tummy to adjust to the change in the new food's caloric density, while giving you some feedback on how much your dog will actually need to be fed. Let's see how Tanner and Oliver's first full meal of Butcher and Bushel went. Notice that each of the boys have a bone in their bowl. I love watching Tanner's reaction to the bone!:
A guideline to get you started is printed on the label. Before you start, weigh your dog so that you have a baseline. Keep in mind your dog's age and activity level, starting on the low end of the suggested amount, and gradually moving up if your pup appears stable in weight.
Have we got you wondering if your dog would love to try Butcher and Bushel? Here's a little tip. Event Barkers is hosting an #OrganicPet Twitter Party on Sunday to share information about organic pet food, and specifically about a few of the Castor and Pollux products. Each of 10 winners will score an amazing haul to include a bunch of cans of Butcher and Bushel--a total of $750 in products! To get involved in this fun experience, you can start by RSVPing here, and entering the 3 pre-event giveaways. Then mark your calendar and join un Sunday, May 4 from 8-9 PM ET.
Need tips on joining a Twitter Party? My left sidebar has links to my Twitter Party 101 posts. While each post may reference another Twitter Party, the same tips will work for this one. Feel free to leave any questions on my Facebook page as well. I'll be happy to help!
To your #OrganicPet,








Event Barkers is producing this Twitter Party on behalf of Castor and Pollux, their client. As my primary advertiser, I am providing my services for this Twitter Party gratis. All opinions shared are completely my own.
Prizes will be provided and shipped by the sponsor.