by Carrie Boyko, CEB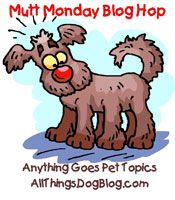 Mutt Monday is an Anything Goes Pet Topics blog hop. I like to use it to review recent posts that you may have missed. Bloggers may feel free to do the same. Jump right in and add your links.
With the holiday week things may be a little slower on the Internet. This is a good time to catch up on your reading and enjoy the slower pace. We'll look forward to more fun in the upcoming weeks.
Happy tails!