by Carrie Boyko, CEB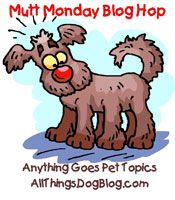 Welcome to our laboratory. At a reader's request we will be testing a new tweak in today's Mutt Monday. In our links below, you'll find that each click of a thumbnail image will open a new window, leaving the original window open for you to return to. I'd love to have your feedback on this function. Do you love it? Do you hate it? Could you care less?! Let me hear from you in the comments section below. If this is a feature that is enjoyed by you, I may incorporate it into other blog hops. Thanks for sharing your thoughts.
This weekend was certainly a busy one at the All Things Dog Blog house. Tanner and Oliver spent a day playing at their favorite doggie daycare while my family and I journeyed to Tampa for my daughter's college graduation. I believe we would have all enjoyed having the dogs along, but I suppose they may have garnered a bit of the attention that was due the graduates instead. Just as well.
Bloggers, please feel free to share your past week's events here in this forum for reviewing our recent posts for today's visitors. We would love to see what you have been up to. I hope you will all take a moment to check out the upcoming Event Barkers Twitter Party: #EBTweets will be happening May 27! I can't wait. I've missed the furious speed of the Twitter Party fun and look forward to seeing you all there to learn, win and share.
Finally, I encourage you to check out the Rabbit Adoptathon, taken over this year by AfFURmation and Bunny's Blog. Thank you to these terrific blogger friends who graciously stepped in to keep our fledgling event alive. Robby would be so proud!