by Carrie Boyko, CEB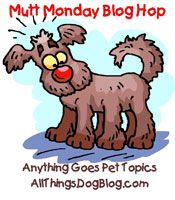 My office is buried in dog treats, T-Shirts, pet toys, pet-themed tote bags, certificates, dog training videos, pet pest control, coupons, bandanas and Barkonomics. Whew! With no postal service today, I'm eager to get this stuff to the Post Office Tuesday or Wednesday and make space in my small work area. Even Oliver seemed a bit miffed that his lounging area was being compromised. He retreated to his bed that is placed under a guest chair for space, if not safety.
And just think, in a couple of weeks I get to do it again! Our #Gamma2Fresh party will be shorter (whew!), but most of all the difference will be in the fresh pet food you'll be getting. Their airtight containers are patented and don't let any bugs inside to contaminate Fido's chow. With the price of dog food climbing, that's good news!
Mutt Monday is a forum for pet bloggers to list their past week's most compelling articles. Feel free to join in with any posts you'd like to share. Happy tails!