by Carrie Boyko, CEB
© All Things Dog Blog
Grab Bag Prizes--
Somes are Surprises
I'm suddenly curious...how many of our dogs are pure vs. mixed? It doesn't matter to me, really; I just suddenly wonder. We'll call this the All Things Dog Blog census. Just for fun, let's find out.
We can even make a game of it. Vote for Team Xena by comment if you're a mixed breed owner. Vote for Team AKC if your dog is pure anything. If your furry family includes both mixed and pure, feel free to vote once per option and of course, you can tell me all about your pups. (I expect lots of fun descriptions!)
Winner Selection: Voting will continue through midnight April 12 and the winner will be announced on April 13. One reader will get a LUCKY Friday, the 13th! I'll draw one name from all the comment/entries at this post to win a Grab Bag Prize that will include 1 bag of dog treats and a fun dog-themed Tshirt for mom or dad.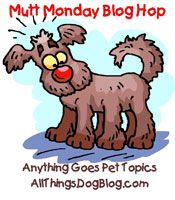 Now let's get on with highlighting pet posts around the blogosphere. Bloggers are welcome to link up their past week's postings here as a way to review them for those who may have missed something. The only rules are (1) keep it family friendly and (2) pet-themed or pet-lover topics only. Enjoy your Monday!