by Carrie Boyko, CEB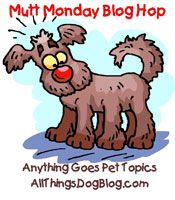 What a week it has been. Oh! Wait a minute. It's only Monday! Hmm......I'm off to a busy start; that's for sure. Wednesday is the Big Day. What's that? That's the day we announce the names of our Super Dog Sunday sponsors here on All Things Dog Blog, and also on Dogtipper. I'm so proud I could pop. It feels great to help out the Petfinder Foundation with a nice big check, while also giving our readers some great prizes.
We hope to see you at our Super Dog Sunday Photo Contest with your Fido all decked out for your favorite NFL team. Tanner and Oliver are going to be showing off their Packer roots again. After all, my dad grew up across the street from Packer Stadium and was a die-hard!
Now let's get a look at what else is going on in the pet blog world. Bloggers are welcome to link up their posts here each Monday. This is a no-rules blog hop. Anything goes, as long as it is pet-related. So jump in; share your posts and show them off to All Things Dog Blog's readers. And while you're at it, sit and stay awhile. Find something good to read and get cozy. Welcome!