by Carrie Boyko, CEB
© courtesy TokiPoki.com
Pet Trading Cards with a Purpose
These days saving money has taken on a great deal more importance to many of us. That's one of the primary reasons Dogtipper and All Things Dog Blog decided to make saving money the main theme for our #BarkFriday Twitter Party.
While many "Black Friday" shoppers will be hitting the malls to dig up savings, we'll be making it much easier for you to find your bargains nearby or online, especially with more than 60 prizes being served up as party favors. I'd like to highlight three of our sponsors today.
© Dog Pack Snacks
Chicken Jerky
Many of you are already familiar with Dog Pack Snacks, as I have reviewed and given away their products a number of times. I love supporting local businesses when I can, and so being in Florida, Dog Pack Snacks has become one of my go-to pet product companies. Deb and her dog Coco have been willing and able to step up whenever I've needed something yummy to pair with a fun event like our #BarkFriday Twitter Party. Their home-made, all-natural treats come in a nice variety of flavors and textures that appeal to most anyone looking for a healthy snack for their Fido.
Toki Poki is a fun place to catch up with your friends' pets online, while collecting their trading cards and sharing your own. Toki Poki dubs their cards "Pet Trading cards with a purpose" because they often donate cards to children's hospitals and other charities.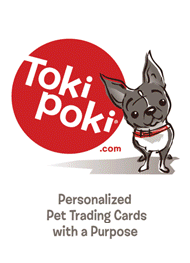 Their specialty group collections are becoming popular also; Oliver had the honor of being in the inaugural set of Dog for the PAWS, a group of rescue dogs whose portraits were painted and stories shared by artist Missy Johnson. Even your lost angels can be collected with memorial cards. I enjoy sharing my dogs' trading cards in many of my readers' prize-winning packages. These cards are especially appreciated by children who can collect, sort and enjoy sharing the images and pertinent facts of many of their friends' pets. Wouldn't a pack of your pup's trading cards make a perfect stocking stuffer for a youngster in your life?
DoggyLoot is one of my newest pet business "friends", having been introduced when I won a prize from them at a Barkworld Expo Twitter Party. I loved the ease with which their system credited by gift to my email account, without codes or gift cards to seal the deal. This site offers daily savings of products for pets that span a wide range of product lines. Savings are touted to be 50-90%, and based on the prices I've seen on their items, I'd say they are definitely offering up bargains.
You can follow DoggyLoot's daily deals by signing up for their emails of each new offer, or checking the site daily for the latest in money-saving pet products. There's nothing to lose by signing up for their alerts, so why not drop over and get hooked up with savings right now.
These three companies and three more to be highlighted at Dogtipper are the sponsors of #BarkFriday, your savings event for the busiest shopping day of the year. We hope to see you on Twitter that day, having fun, staying out of the crowds, learning great tips for saving, and of course, winning prizes. Happy tails!