by Carrie Boyko, CEB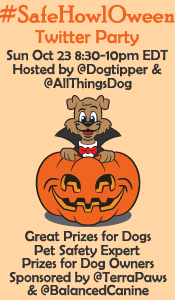 In Honor of World Animal Day:
Halloween Safety for Dogs
Hello Twitter lovers! All Things Dog Blog is teaming up with Dogtipper for a fun new way to bring you spooktacular pet solutions for Halloween. Our goal? Get
Halloween Safety
information out to dog owners, while allowing you to win great prizes and have some online fun.
We're calling ourselves the Twitter Barkers, a duo of dog writers with a current mission to help you keep Fido safe on Halloween. We've even got ourselves a guest co-host from Fidose of Reality. So, warm up your keyboards for some rip roaring Tweeting.
Never been to a Twitter party before? Now's your chance. There's nothing to it once you have a Twitter handle. I'll be offering some simple tips over the next few weeks, for those who'd like to brush up on how a Twitter party works, so be sure to keep checking in and watch for helpful hints.
Once you have a Twitter account, you're definitely ready to join in. Just remember that you do need to RSVP below, in order to win prizes or ask questions at the party. Everyone is welcome to participate in the questions and join in the fun. Be sure you follow other party attendees so you can make new friends along the way.
To let us know you'll be attending, just enter your Twitter handle in the linky list entry form at the bottom of this post. Need help? Just email your question to TwitterBarkers@gmail.com and one of us will answer.
Here are the details and more information on the prizes you can win:
Date and Time: Sunday, October 23, 2011 8:30 PM - 10:00 PM EDT
SafeHowlOween Hosts: @Dogtipper and @AllThingsDog (yes, that's me!)
Guest Co-host:
@FidoseofReality
Guest Expert:
@BalancedCanine
Sponsors: @TerraPaws and @BalancedCanine
Prizes Provided by: @TerraPaws @AllThingsDog and @Dogtipper
Party Hashtag: #SafeHowloween
Did your ears perk up when you saw "Prizes?" We'll be having a barking good time handing out bunches of Terra Paws dog treats, Halloween dog toys, great orange leashes, and mini safety flashlights for trick-or-treating with Fido and an adorable, dog-themed Halloween tote bag. There's something for you and Fido in this great party, so we hope you'll all give it a try.
There's more! You can help with party discussion in advance by submitting your questions about dog safety on Halloween. Dr. Mark Nunez, the veterinarian who pens All Things Dog Blog's Ask the Vet column will be sitting in to answer some of the best, most helpful safety questions that are submitted. You can find out what Halloween treats are the most scary for Fido's tummy and also learn what to do if Bowser steps on a hot sparkler or munches on a costume.
© Carrie Boyko
Tanner Guards
his Terrapaws Treats
You tell us. What would you like to know about keeping Fido safe when you answer the door and he bolts, or perhaps demolishes a bowl of your party snacks? We'll pick some of the best ones for the Twitter party and hopefully Dr. Mark will find time to answer some of the others on the blog.
Send your SafeHowl0ween questions to:
Participant perks not only include prizes and helpful safety information, but you'll also get some great opportunities to scare up savings from our sponsors. Watch for promo discount codes from both Terra Paws treats and Dr. Mark Nunez's Veterinary pharmacy. I'll be sharing those throughout the next few weeks on my Facebook page and in coming blog posts as well.
Got a blog? You can post the badge above using the code from my sidebar. I appreciate any help you'd like to give in getting the word out.
Win this Handbag:
Part of the Grand Prize
Speaking of shout outs, anyone can help us let others know where to join in by posting the tweet below. If you copy and paste it from below, including the hashtag #SafeHowloween, you'll automatically be placed in a drawing for a great prize. One winner from the pre-tweet drawing will score major treats from Terra Paws, a Halloween toy or leash for Fido, and a #SafeHowloween mini-flashlight. So go ahead, get on out there and start tweeting. You may be the first prize winner in the Twitter Party. Here's the pre-tweet:
Join me 4 #SafeHowloween #TwitterParty w/Vet @balancedcanine, great prizes, and @Terrapaws #dog treats. Details: http://ow.ly/6LRnd
In addition, TwitterBarkers will be running a Halloween photo contest and entries have already started. That means the clock is ticking, so it's time to get busy coming up with a fun theme. Scroll down or click over to check out my post at Halloween Fido Photos: A Contest for Your Devilish or Darling Dog for more details. And if you'd like a sneak peek at Tanner's corny costume, stop by 5 Minutes for Fido to check it out. He's pretty vocal about his complaining!
Questions?
I'll be giving you all the FAQs on how to participate in a Twitter Party. S
imply watch for my tips posts during the next few weeks. Happy tails!









Twitter Party Rules:
Follow your hosts and sponsors @allthingsdog, @dogtipper, @fidoseofreality, @balancedcanine and @terrapaws
Party open to anyone with a Twitter handle. Prizes are limited to the U.S. and Canada, with the exception of Quebec. Sorry Quebec residents; your laws do not allow us to give prizes to you :( Giveaways are void anywhere they are prohibited by law.
Canadian winners will receive a substitute prize for the Terrapaws treats due to border restrictions on shipping of pet food.
RSVP below and be sure to check in upon arrival at 8:30 PM EDT on October 23rd
Must be in attendance to win a prize. Winners will be DM'd to request address info.Canadian winners will also need to provide phone number.
Detailed rules for winning prizes on All Things Dog Blog may be found at my Giveaways and Contests Rules page.
Full disclosure: Treats for the Twitter Party are being provided as a promotional opportunity by Terra Paws. Other assorted prizes to be awarded at the Twitter party have been acquired as samples and conference swag from a variety of brands and sources. Flashlights and handbags were purchased by All Things Dog Blog to be used as prizes.