by Carrie Boyko, CEB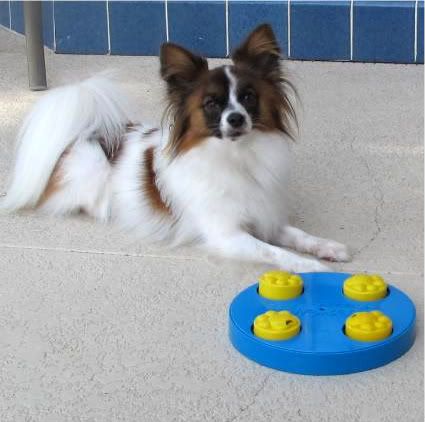 Oliver Already Misses
his New Treat Wheel!
You guys sure don't let grass grow under your feet when it comes to a great prize. I'm pleased to announce that two lucky ladies have won the Kyjen puzzle toys, which will be mailed to them this week.
We want to see pictures of your pups playing with the new toys, so get your cameras warmed up!
The winners are
Patti S. and Pamela M. I have notified both ladies and their pups will certainly be enjoying a great holiday gift.
Tanner and Oliver are feeling better about giving the toys up, now that they have learned that there are more samples for reviewing on their way. 2011 will be a fun year with lots of product reviews.
What's up next? Loads of dog books for all ages. Keep reading!