by Carrie Boyko, CEB
© Carrie Boyko
Ready...Set....I'm Waiting!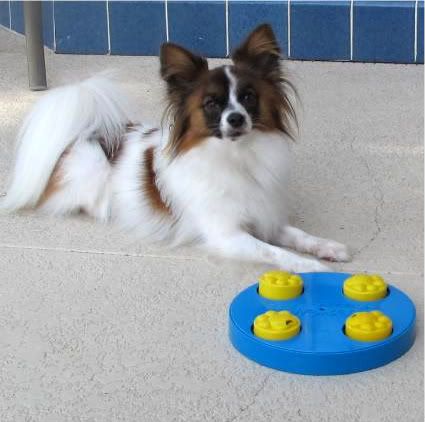 © Carrie Boyko
Ready, Boss!
The challenge is on. Kyjen, the dog toy manufacturer, has sent us two of our favorite puzzle toys to try out with Oliver and Tanner. Given a 10-pound, toy-sized dog, Oliver, and a 70-lb Golden Retriever, the question is which toy will challenge each dog the most.
© Carrie Boyko
"Yummy, MOM!"
I evaluated both toys and hypothesized that Tanner would quickly figure out both, but wondered how Oliver's diminutive mouth would factor into his success. I hoped the tiny holes in the Treat Wheel would help Oliver sniff out the goods, but was concerned about his ability to get the yellow paws out of the holes. Using a few tidbits of good-smelling stuff like cheese mixed in with healthy, organic kibble, I had great success once I tipped a yellow paw cap to show him how it opened. He was able to catch the small hole with his canines to lift the cap out, finally exposing the goodies underneath.
What's really cool about this toy, that is not obvious on the packaging, is that once all the yellow paws are removed, the inner compartment spins and holds more areas for treat exposure. This adds a whole new level of fun and exploration for the dog, keeping his interest for quite a long while. Oliver spent nearly a half hour eating his breakfast from this toy, which for some dogs could be a real advantage in feeding.
© Carrie Boyko
Paws Don't Work Well for Tanner
Once exposed, the inner compartments were more easily manipulated by Oliver's small mouth and tongue. Tanner found this toy more difficult for his much bigger snout, although he was able to manage and enjoy the treats by using just his long tongue. While not a toy for your Mastiff or Great Dane, it should be fine for any dog of Tanner's size or smaller.
© Carrie Boyko
No Problem! I'm a Whiz.
Tanner was a quick study for the Star Spinner toy, while Oliver needed a little help with the swivel the first time. He's wary of using his snout as a tool, while Tanner's snout was probably made by Craftsman tools. Tanner plowed through the Star Spinner, slowed only by the small compartments, which once again made him use his tongue. With ten tiny bowls to find, this toy kept him busy for a good while, and slowed his eating pace a good bit.
© Carrie Boyko
I Can Get in Small Places
Oliver's approach to the Star Spinner was more methodical, working from one section to the next one in a circular motion. It was sort of cute, almost like he was working a buffet! He didn't miss a single morsel, as his smaller snout fit nicely into the opening between the levels.
When it comes to using problem solving skills, these two toys can hardly be topped. Both Tanner and Oliver took a nap after breakfast, something that generally waits till after a morning walk. I suppose you can guess that this was because of mental fatigue, not simply the physical effort of eating. This is one great way to give your dog a job--finding his dinner!
Now comes the real fun. I'm going to give these great Kyjen toy samples away to two lucky winners. All you have to do to win is be one of the first two people to solve this puzzle:
Both my small and large dogs enjoyed each of these Kyjen puzzle toys. If I were to recommend one to you, I would suggest that you choose the ________________ for a toy-sized dog, and the ___________________ for your large dog. Let the guessing begin! And don't miss the hints over at 5 Minutes for Fido. Oliver and Tanner have strict instructions to be very subtle!
Answers will be accepted through comments below, on our Facebook page, or by email to LetsAdoptaDogPark@gmail.com. The contest will close when 2 correct answers (to both blank spaces) are received, or on December 14, 2010. Prizes will be shipped immediately; however, arrival before Christmas Day cannot be guaranteed. This offer good only to U.S. addresses.
Are there other ways to get Kyjen's great toys? Of course! They are currently running a toy-a-day giveaway through Christmas. You can sign up here for their "Boycott Boring Dog Toys" program. You could even become a toy reviewer for Kyjen and be entered to win a grand prize drawing that will include all of their toys! Sounds like fun, huh?!!!
Can't wait? Gotta, hafta, coulda, woulda....buy it here:
Full disclosure: The

K

yjen products described in this post have been donated to All Things Dog Blog for an independent review. I have not been paid to provide my opinion of these products, and the opinion provided is my own.
Help protect our precious dog parks
© Carrie Boyko, all rights reserved
Follow All Things Dog at Twitter
Find me at Facebook
© copyright Carrie Boyko, all rights reserved
Bookmark this on Delicious