by Carrie Boyko, CEB
Iams' Home 4 the Holidays campaign has grown. This year's goal is to place 1.5 million pets. And there's more. In addition to their focus on adoption, Iams is donationg food to animal shelters. Their goal? A whopping 5 million bowls of pet food. To accomplish this, they need our help.
The new Bags for Bowls Program is the best way for you to get involved. Iams will donate a meal to shelter pets for every "LIKE" at their Facebook Page. This is a great place to follow their Adoption Angel's stories. The Bags for Bowls Program will run through January 4, 2011, so visit often and enjoy their stories, pictures and videos.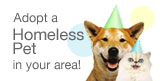 Rescues are overwhelmed with pets that need homes. You can get info on available pets online at Petfinder or Adopt-a-Pet, to name just a couple. I like these two sites because they allow you to specify criteria like sex, age, breed, location, and so on.
If you look down my sidebar, you'll find a number of pets that are available through Central Florida foster homes that work with Petfinder. This is just one of the many ways you can look for pets in your own area--using Petfinder and Adoptapet.
If you are thinking about adopting a pet for your family this holiday season, there are many things to consider. For instance, if you already have another pet, there are considerations you must think about before choosing the right additional pet to bring home. Try reading these tips. Another great article that includes many resources is one of our ASK THE DOG TRAINER posts on Choosing the right breed for you. Finally, if you're a senior citizen, you may need even more input on breed choice, considering your health and lifestyle.
© Carrie Boyko
There's Nothing Like Chowtime
Keep me posted on your new family member. You can post a picture of him at my Facebook page. No matter what you decide to do, be sure to drop in at the Iams page and help get another bowl of food to a hungry pet. You'll feel great about yourself, and so will the pet.
Help protect our
precious dog parks
© Carrie Boyko, all rights reserved
Follow All Things Dog at Twitter
Find me at Facebook
© copyright Carrie Boyko, all rights reserved
Bookmark this on Delicious
Dedication: This post is for Brent, whose love for our dogs grows stronger every day. You'll see them again soon. Happy birthday, sweetheart. We miss you.