by Carrie Boyko, CEB
courtesy USDA.org
During our upcoming #OrganicPet Twitter Party, hosted by Event Barkers team members All Things Dog Blog,
ToDogWithLove.com
and
DogTipper.com
, my primary job will be to sort out the facts from the fiction when it comes to the true meaning of
organic
on a food label. There are many misconceptions about what defines organic, and an equally large number of questions on many of your minds.
I'll be on hand to share the facts about the National Organic Program, and I'll be accompanied by the social media team from Castor and Pollux. This trio will be answering your questions about their products, so make out your lists. This will be an excellent opportunity for you to get all your questions answered.
A good place to start is with the USDA Organic seal, shown above. When you see this seal on a product, whether in color or black and white, it is generally placed on the front label and is your singular confirmation that the contents of the package are at least 95% organic. You'll find this label on many of Castor and Pollux's products in the ORGANIX brand, most notably their canned meals. At #OrganicPet, we'll be discussing the newest line of these meals, Butcher and Bushel, that are produced using a newer technology which allows them to be pressure cooked inside the can. Watch for exciting news on this note as we move forward. We'll also have bunches of info on this during the party; really cool stuff that your dog is sure to salivate over.
courtesy Tilth.org
Other seals indicating a minimum of 70% certified organic content include those such as Oregon Tilth, a third party government contractor that certifies organic farming practices, products, ingredients and processing facilities. These agency seals will generally be located on the back of the product. Oregon Tilth is one of many such agencies, and happens to be the company that certifies the bagged kibble for ORGANIX. Are you asking yourself why pet parents would purchase a 70% organic product when 95% is available in canned product? That's an excellent question and one that I'd like to answer by sharing our story:
Some years ago when I began seeking an organic food for our pets, I found out the hard way what our Castor and Pollux social media team can probably tell you: It's tough to locate a reliable source for certain organic ingredients, making that 95% USDA organic product even more challenging to achieve.




After scouring the larger pet supermarkets, I quickly learned that USDA Organic was not avaialable--at that time--via these retailers.
Next I hit the smaller natural food markets and what I call the "mom and pop" pet retailers--smaller, single store operations. I found quite a few USDA Organic pet foods that met my initial criteria, but quickly learned that continuity would become a huge problem.
Each time I returned to purchase another bag, the last brand I had served was either discontinued or out of stock indefinitely, leaving me with yet another decision to make--which new product to try THIS TIME. This frustrating and time-consuming problem ended up to be my solution. As I chatted with the owner of one "mom and pop", she explained that the small organic pet food companies were all struggling with supply issues and that I might have better luck if I switched to an organic product made by a slightly larger company that included the 70% organic promise on their label. She introduced me to Castor and Pollux.
I sighed and began comparing labels. Who knew? I had completely overlooked the fact that these products, such as Castor and Pollux's ORGANIX, contained organic chicken, organic vegetables, organic fruits, and higher quality organic grains. "So where is the 30% that cannot be called organic?", I asked the store owner. It was right there on the label--the supplements, many that are wholefood ingredients added to provide vitamins and minerals.
My last question for this shop keeper was the most obvious: "Which product is reliably in-stock?" Her reply was, "You're looking at it right now." I handed her the bag of ORGANIX and told her we'd be back again in a few weeks to see if, in fact, we were able to purchase the same product again. I'm sure you can guess the happy ending to this story.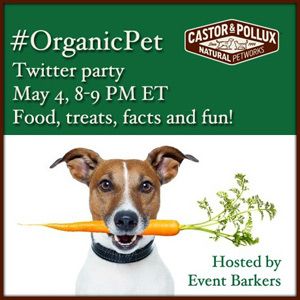 The ORGANIX brand is built on a foundation of sourcing organic produce that are healthy and nutritious additions to their products. Tanner and Oliver have spent all of their lives on this organic diet, enjoying good health, shiny coats, and plentiful energy. We look forward to sharing more of the facts about organic foods at #OrganicPet.
Have you marked your calendar? Join us on May 4, 8 PM-9 PM ET. Don't forget to RSVP here using the Giveaway Tools widget, and join in our pre-party giveaways, if you'd like to take a chance at winning now.
Here's to your #OrganicPet,

SOURCES: Facts about the National Organic Program shared both here and during the #OrganicPet Twitter Party come from the official government website for the program: www.ams.usda.gov
All Things Dog Blog works with ORGANIX to educate the public on the benefits of feeding a healthy diet. While we generally share facts based on research, opinions shared are my own. My dogs are fed the ORGANIX kibble along with treats and special-occasion surprises such as Butcher and Bushel.