by Carrie Boyko, CEB
courtesy Phil King via
Flickr.com
Ready for Rough Weather? We are!
Today you get a twofer. I'm going to run down the #Coupaween party plan for tonight as well as give you our backup plan, just in case the worst were to happen--downtime at Twitter. Don't worry, though, this has never happened!
Let's get that Rain Date out of the way: It's Wednesday, October 2--same time, same channel (Twitter!). If Twitter is down for more than 15 minutes, we'll move to our rain date to make sure we get to enjoy the whole event. And remember, Coupaw has goodies for Meow and Woof! Check out these cute cats that are ready to party:
Now let's move on to our party plan. I like to give you a heads up on which of our team handles will be doing what. This is helpful for you in deciding who to follow. Here's the rundown:
@ArdenKnowsPets: Arden Moore will be sharing Halloween safety tips and answering your questions on this topic.
@EventBarkers: As always, Event Barkers will be handing out the prizes and sharing some info about them and our sponsor, @Coupaw
@EBParties: Learn more about @Coupaw, their site, variety, schedule, shipping, charity efforts, and product selection.
@DogTipper: Get into the conversation about Halloween with DogTipper.
@AllThingsDog: Help your dog be more comfortable in a costume with a few tips and easy ways to join in the Halloween fun.
@CatTipper: Get some ideas for sharing your Meow's image in Halloween scenarios. You'll also see some photo sharing and we invite you to bring your photos to show off also.
@5MinutesforFido: Oliver has been instructed to share some Halloween photos from earlier photo contests by Event Barkers. We'll see what happens, but please give him some kudos for trying.
@HollywoodDogs: More photo sharing! Don't forget to bring your Halloween pictures to share at the party.
@ParisandJohn: Watch for tidbits about Arden Moore, pics of Irie and Tiki, and a Halloween recipe that you can whip up in a jiffy to keep Fido busy while you hand out candy at the door.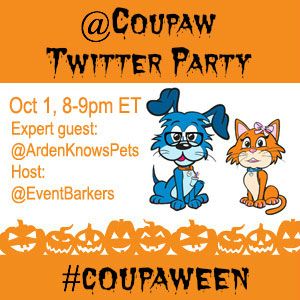 Finally, one last run through of the prizes: There will be 17 winners to receive a $25 Coupaw credit that they may spend on anything they wish at Coupaw.com. Our Grand Prize winner, to be announced at 9 PM ET, will receive one of these Coupaw credits along with a custom oil painting of a pet--valued at $175. Check out my post about artist Debbie Sampson to learn more.
That about covers it. Keep in mind that to win a prize at #Coupaween, you will have to be registered to receive daily deals at their site. And please don't forget to RSVP so we know you're joining us. We're drawing the winners from that list today, so don't waste any time getting over there. Now is the time to get that little detail taken care of so it doesn't get in your way. See you tonight; please come early and be sure to check in with @EventBarkers when you arrive.








All Things Dog Blog and DogTipper.com are working with Coupaw.com to increase their online presence.