by Carrie Boyko, CEB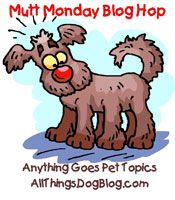 All Things Dog Blog is excited to be planning another upcoming Twitter Party through our Event Barkers partnership with Dogtipper.com. Even more exciting than the party itself is the blogger opportunity we have decided to offer. One blogger will win a full sponsorship in the #BarktoSchool Twitter Party, receiving all the posting and Tweeting benefits that Event Barkers offers to our sponsors. What's more, this blogger will not need to offer prizes, so it's a complete freebie for them. You'll notice it is listed at Fido's Freebie Friday. This is a valuable opportunity that will allow this blogger to get a great deal of of promotion. Don't miss it!
Moving on...Mutt Monday has been creeping along for a while now, drawing only a small crowd. I'm okay with using it as a vehicle to share my last week's posts, helping readers find out what's new that they may have missed. That's actually why I created it. My hope is that other bloggers will join in, listing their posts that they wish to highlight as well. Feel free to link up multiple posts that you'd like to share here. Mutt Monday is an 'anything goes pet topics' sort of event, so spread the word and feel free to post several listings if you'd like. Welcome aboard!