by Carrie Boyko, CEB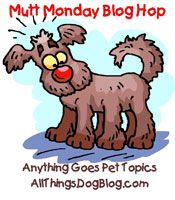 I'm dragging my behind in today after a long fun-filled family weekend. Thank goodness for Mutt Monday, All Things Dog Blog's way of reviewing the past week's posts and events. We invite other bloggers to link up their posts from the past week, sharing your info with all of our readers. Hop right on in; it's a blog hop!
Twitter Parties are back on the agenda with more to announce. I can hardly wait to share, but mum's the word right now. Watch for more news as things develop. Happy tails!