by Carrie Boyko, CEB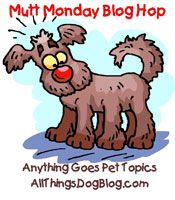 The Mutt Monday Census is in. We started our tally back on March 27. Unofficial as it may be, it was fun, informative and lively. If you enjoy hearing stories of adoption and rescue, you'll find plenty at the post at the link.
Who came out on top in the census? Team AKC had more votes, but my tally was admittedly a bit confused by the many votes that were ambiguous. I'd say Team AKC won by about 10 votes or roughly 30% of all dogs represented. Some of the purebreds were rescues, causing their owners to be confused as to how they should vote. Understandable.
Enjoy the comments and their stories. I sure did!
© TerraPaws.com
One Grab Bag prize was given out to a randomly drawn commenter at that post: Jill W. Lucky Jill got a cute, dog-themed Tshirt and a bag of Terra Paws treats for her fido. Stay tuned for more fun giveaways from my sponsors who love showing off their stuff to you guys.
This week's blogger highlights will appear below. Bloggers are invited to link up as many pet-themed posts as they like. Just keep it family friendly and you're welcome to share your posts here. Have a great week!