by Carrie Boyko, CEB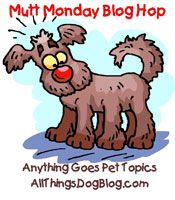 Last week's Mutt Monday Census was sooooo much fun! I really enjoyed everyone's comments about their dogs, both pure and mixes. Are you wondering which team ended up with the most comments? I sure was, but the game continues.
You can continue to leave your votes at the link above, through midnight April 12. The winner, by random drawing from numbered comments, will be announced on Friday, April 13.
If you missed last week, you may want to know that we were asking everyone to offer up a vote for "Team Xena" if they have a mixed breed dog, and "Team AKC" if they have a purebred Fido. Homes with both may vote once each for both categories.
Of course, this Mutt Monday Census is very unofficial, but it gives me a good sense that we have a variety of pups in our readership, and diversity is definitely a good thing. Now let's see what's going on with some of the blogs who link up today.