by Carrie Boyko, CEB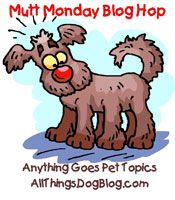 It was certainly a doozy of a weekend with Super Dog Sunday™ to wrap it up. More than 120 pets joined Dogtipper and All Things Dog Blog to bring some cash infusion to Petfinder Foundation and celebrate by having an NFL-themed photo contest. We had a blast!
Be sure to stop in the Slideshow post and view half of the photos submitted here. The other half can be found at Dogtipper. Enjoy this review of what's new here, and feel free to add your own if you have a pet blog. Happy Mutt Monday!