by Carrie Boyko, CEB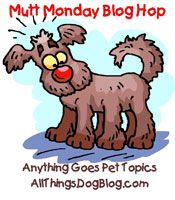 Good Monday morning to ya! I hope this find you busy preparing for a thankful Thanksgiving. Knowing that many families are still struggling in this less-than-charming economy, I plan a little giveaway bonanza for the week following Thanksgiving, just to help get your Fido preparations under way.
I'll be giving away all sorts of do gifts and dog lover items, so please spread the word and watch for the big event. More news soon...
If you've dropped in to join our Mutt Monday Blog Hop, please go ahead and plug right in. This blog hop is an anything goes pet blog hop, so there are no rules, just pets! We're happy to see you.









If your blog is hosted at Wordpress.com please click below to enter your link:
Powered by Linky Tools
Click here
to enter your link and view this Linky Tools list...