by Carrie Boyko, CEB
My friends over at Dogtipper and I have been putting our email to the test. We're probably at a hundred rounds or more and finally have all the i's dotted and the t's crossed. Maybe. What I am sure of is that we have great prizes and wonderful sponsors. Read on to find out how you can save on as an All Things Dog Blog reader, with our Twitter Party sponsors.
Today I'm profiling one of our Twitter Party sponsors, @BalancedCanine, or The Balanced Canine, the online persona of Dr. Mark Nunez. Dr. Mark is the Ask the Vet columnist for All Things Dog Blog and writes his own blog at The Balanced Canine. He's also an avid student of dog behavior and owns an online veterinary pharmacy. You've probably seen plenty of these sites, but how many of these can you say you're a personal Twitter follower of? You'll find his door always open 24/7 for your shopping convenience at DrMarkNunez.com.
I just dropped in on Dr. Nunez to check out his store. I found the CET Chews that Oliver uses to keep his teeth clean. I like these because they are without the same hazards of regular rawhide chews. These chews are treated with an enzyme that not only helps keep his teeth cleaner, but also assists with the digestion process, to assure that Fido doesn't have any large portions passing through undigested. And also important, Oliver loves them!
My experience at Dr. Nunez's pharmacy was quick and painless. What did I like best? The search function found what I was looking for on the first try, and I was impressed to see that I can set up auto-ship to assure that I never run out of a product. That's perfect when dealing with important medications that must remain on schedule. I really like this feature.
I also love the 15% discount I got for being a Twitter follower. I simply entered the code "fans" in the white box at checkout, and the discount automatically recalculated, giving me my savings on the spot.
You can do this too. The discount code "fans" and 15% off continues through October, 2012, as Dr. Nunez's special goes on for his All Things Dog Blog readers. Drop in and see what's there. I'm sure you'll discover something that your pup already uses. Enjoy the savings and we hope to see you at the #SafeHowlOween Twitter Party.
Dr. Mark will be doubling as our guest expert at the Twitter Party, answering questions that readers have submitted about Halloween safety for our Fidos. Got a question for Dr. Mark? Send it to
TwitterBarkers@gmail.com
. Many dogs are lost, frightened, or get sick from snacks that are not meant for dogs on this most-dangerous of human holidays. Join us to learn more about how you can protect your pup on Halloween.
Who: All Twitter users
What: #SafeHowlOween Twitter Party
When: Sunday, October 23rd, 2011
Where: Join us on Twitter.com
How:
Use the hashtag #SafeHowloween in each tweet to follow along and help others see your posts.
Why: Prizes, dog safety information, new followers and friends
What do you need to do to join in?
Visit the party announcement post to RSVP on the linky list. Get assistance with your RSVP here if you need it. Note: To win prizes or submit questions for Dr. Mark, you must RSVP. Everyone can participate in the discussions.
Watch for posts on how Twitter parties work, Twitter tips, and communicating via Tweet.
Send your questions about Halloween safety for dogs to Dr. Mark at TwitterBarkers@gmail.com.

Show up at 8:30 on October 23rd and check in using the Twitter Party Hashtag: #SafeHowloween, in every post.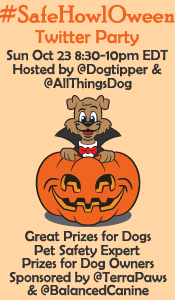 Prizes will be given out throughout the party. We'll have Terra Paws dog treats, Trick-or-Treat flashlights that double as a dog collar cliplight, Halloween toys, Halloween leashes, and a Grand Prize to include a dog-themed, Halloween tote bag. Watch for my profile of Terra Paws, our second sponsor, coming soon.
Dr. Mark will answer Halloween dog safety questions sent in advance. You can ask followup questions for more detail on his comments. Make new friends on Twitter and enjoy the fast and furious pace of fun Tweeting. It's a blast!