by Carrie Boyko, CEB
(c) Carrie Boyko
Playtime Bonds. Enjoy it Often!
Daily vigorous exercise and mental challenges or puzzle toys help fatigue mind and body. These healthy activities promote emotional and physical health.
Provide regular preventive health care to include needed vaccinations that will protect your dog from illness. Foster a relationship with an open-minded veterinarian who will work with you based on your philosophies and belief system.
Continue to prevent long term health problems with the best, healthy organic or all-natural
Watch your own attitudes and anxieties as you work with your dog. Fido's ability to tune into your emotions will tell him whether you are capable of watching his back. This will return to you in spades.
Train or treat with organic fruits, veggies and commercially-prepared treats that supplement a healthy lifestyle, not Fido's waistline.
Socialize your dog with both humans and other dogs. Offer a variety of activities,
venues and experiences to extend and maintain his social skills.
Train, train and train. When you think you're done, don't stop, but continue to
practice. Training will continue to maintain good behavior and build the bond
you and your best friend have.
Encourage bonding with all family members. Design exercises to develop loyalty and devotion to every member of the immediate or extended family, working toward complete assurance of safety and a happy co-existence.
Include off-leash activities often and be sure to regularly practice "Come when
called." This is the skill that could save his life one day.
As your dog ages, add patience and compassion to your own repertoire, while g
iving your dog opportunities for daily outings and the stimulation of social and active experiences. Moderate the activity to suit his health and enjoyment.
(c) Carrie Boyko
Senior Dogs Need Love Too
Don't believe the old adage, "You can't teach an old dog new tricks." While significant change may be tough on your senior dog, learning new skills is still possible in advanced years and will give you both a feeling of purpose and reason to continue practicing.
What would you add to this list?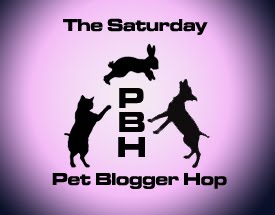 Today's post is part of the Saturday Pet Blogger hop sponsored by Two Little Cavaliers, Confessions of the Plume and Life with Dogs. We invite you to peruse the list below. If you'd like to link up your pet blog, the rules follow, as copied from Life with Dogs.
Link up your pet blog name and URL using the Linky Tool below. You only need to add your link once to be seen on all the Saturday Pet Blogger Blog Hop Linky Tools for that week. Note that if your blog is not pet related your link will be removed. Also note that only one post per blog is acceptable, and links promoting giveaways that are unrelated to the pet blogger hop will be removed. This is a community building exercise and not a promotional vehicle – please treat it as such.

Grab the "Saturday Pet Blogger Blog Hop" button on the right hand side of this site and include it in your Saturday Blog hop post so that your readers will know what is going on. *Note – posting is optional. Feel free to just link and follow.

Follow your co-hosts listed in the first 3 slots of the Linky Tool.

Follow as many other blogs on the linky as you'd like.

Take a moment to comment on the blogs telling them you're from the blog hop.

Follow back when you get a new follower through the Saturday Pet Blogger Hop.

Make friends and grow. ♥