by Carrie Boyko, CEB
© L. Glavin
Tanner's Fetch Skills Excel
© L.Glavin
Tanner Brings Home the Toy
This week's K9Kamp challenge, proferred by Kol's Notes and Peggy's Pet Place, asked participants to play fetch with their pups. Tanner heard the F word and was off to the French door, looking for a Fetch toy to get started right away!
We're home without family for several days, so you get to enjoy pictures of Tanner playing fetch alone, instead of me running along side. That's all well and good. I don't run right now since an injury on a New Year's vacation put a damper on my romping. Biking, fortunately, is still working for me. Yay!
© L. Glavin
Leave It. Wait.
Tanner and I decided that an hour of Fetch is simply not enough. He expects a good 20 minute Fetch game EVERY afternoon, so we're easily over the 3 hour mark already. I managed to pull off a few fetch games where I raced Tanner in our pool. That was a fun game for sure. I had the advantage of taking a nice long racing dive and swimming under water, so he was surprised to see me surface next to the prize and snatch it before he got there. Hehehe! A few rounds of that game had both of us ready for an afternoon dog nap, in which Oliver and Patches, our cat, all joined in. Is this the Napping House of children's book fame?
© Carrie Boyko
Tanner Races with His Orbee-Tuff Ball
At the dog park, Tanner enjoyed a rocking Fetch game, with Oliver chasing after him. They got a great exercise session there, despite my inability to join them in the run. My arm did get a workout though, and I'll admit it was feeling the after effects the next day, even when using a launcher.
Between you and me, without the launcher, I'd be out of business. Even Tanner knows that I throw like a girl. I can hardly get it 30 feet and that's just not much of a sprint for a big guy like my Tanner. Friends at the dog park sometimes say he runs like he has Greyhound in him.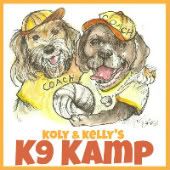 All in all, K9Kamp was a success here this week. We had fun, got some exercise, and refocused our efforts to eat more fruit. With Summer nearly over, fruit will be drying up soon, so I need to get ahead of the game. Berries are a favorite here with the boys too. It's time to go get a snack now. Fruity Yogurt Chillers anyone? See you at next week's K9 Kamp update.