by Carrie Boyko, CEB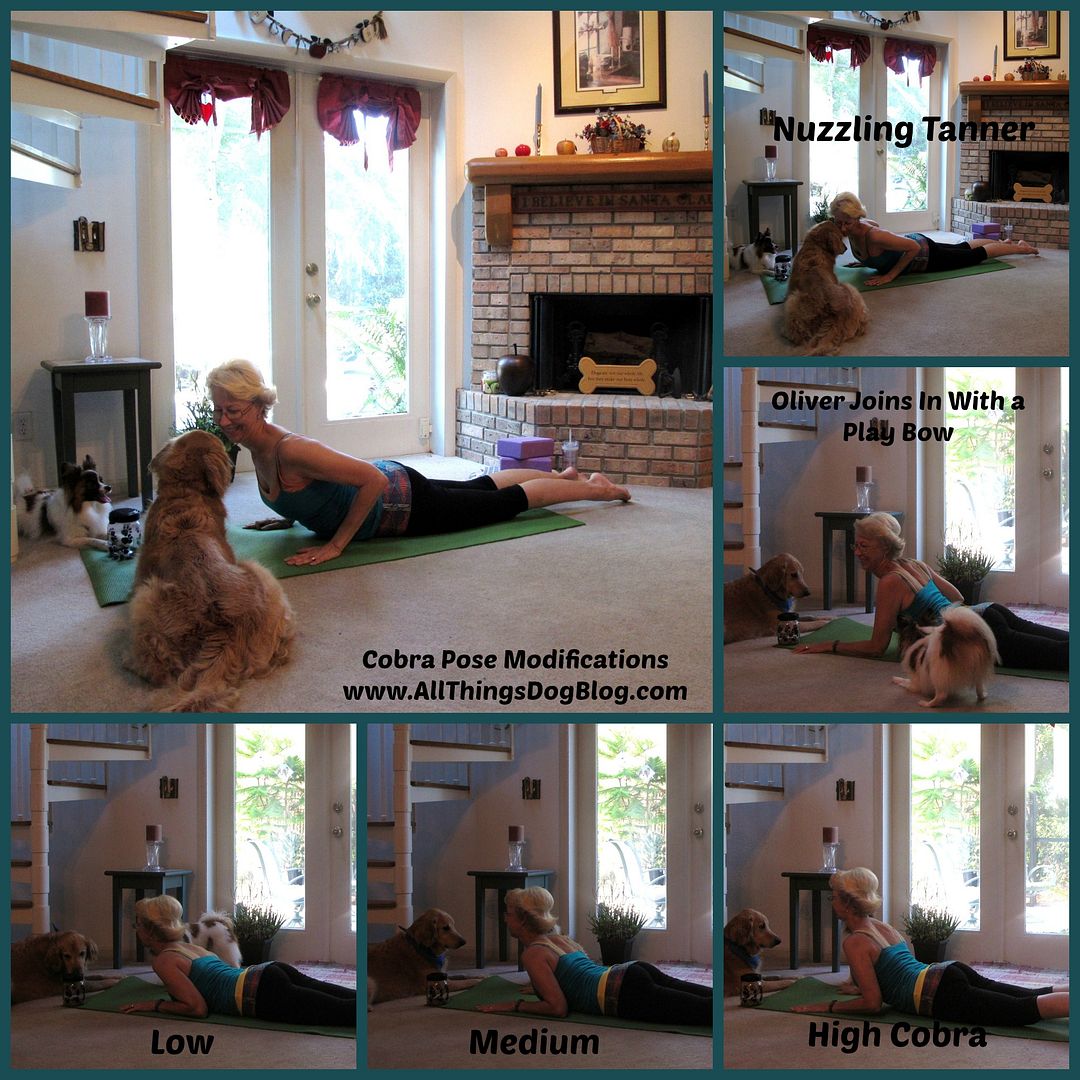 Just getting started with #doga? Cobra pose is a great way to slowly and gently move your back's flexibility along while simultaneously strengthening it. Keep our initial suggestions in mind as you work on this for just a few minutes each day. Remember that daily practice--even 2 minutes on just a few poses each--is better than 15-30 minutes once or even twice weekly. You'll make progress far faster and feel better as a result.
I'm finding that the dogs' companionship is all the reward I need to get me to stay on the mat to practice longer. If you need something more, dangle a carrot for yourself: promise yourself a favorite beverage afterwards (I'll do most anything for a vanilla latte) or a few minutes on your favorite online game. Whatever it takes to get you motivated! Pssst--what's YOUR favorite game app? I'm loving "2048"--a great mental challenge. I've managed to beat the game and get to 4096. Anyone else loving this game?
You may also gain some inspiration from joining the IG yoga instructors group on Instagram. By following my posts on IG you'll see some of their handles. They have regular challenges and lots of ideas for modifying what they often photograph as an intensely difficult pose. Mine don't look a thing like theirs, but I'm making progress. Remember to compete only with yourself. :)
As you begin to work on Cobra pose, start by viewing the short #doga video for this pose and my introductory #doga post with some basic tips on safety and preparation. At first you'll want to simply raise your head and shoulders, taking a few breaths and moving on. Try to get Fido to connect and hang out with you; you'll be amazed at how much his presence will help you stay with your practice. See how you feel tomorrow before advancing to a slightly higher elevation like Medium Cobra. Gradually you'll get to the higher Cobra and than on to Upward Dog. I'll talk more about that pose in the next post in this series on modifications.
If your goal, like mine, is to enjoy a healthy workout at home while spending time with your dogs, keep a small treat jar at the corner of your mat and always invite your furry friends to join in. Oliver loves the start of practice. As you can see he inevitably offers a play bow as a way of showing his excitement. Tanner is my cozy boy, enjoying a snuggle of snouts. #lovemydogs
Our #doga pose videos, published earlier, are at our dedicated
Doga page
. We hope you enjoy following along and that you'll offer your comments and ideas for incorporating your dogs easily and safely into your practice, either here or at our
Facebook page
where we can all support one another. The comment link is always open at the bottom of my posts where you can share your questions, thoughts and ideas on the poses and incorporating your dog. I'd love to hear from you!
If you're like me and you just can't get enough of this stuff, check out my
Doga Pinterest Board
for photos of all sorts of dogs, people and their interesting versions of various poses. Some are good for a great laugh and others will help you determine how to use your dog in your practice. Still others will simply inspire you to stay with it. I hope to see you again soon for a #WeeklyWag bonding post, each Saturday here on All Things Dog Blog.
Namaste,
If you're new to Doga or Yoga, please be sure to do these three things: (1) Get your doctor's permission to start this or any other workout, (2) Check with your vet to make sure your dog is able to participate in simple Doga exercises safely, and (3) visit our introductory post where I've outlined a few tips that will help your experience go more smoothly and enjoyable. Keep in mind that you can always stop if a pose is uncomfortable, returning to a more relaxing pose for you.