by Carrie Boyko, CEB

The Event Barkers Twitter Parties have definitely all got two things in common: they move quickly and we have a bunch of fun! Hopefully by now you have marked your calendar, RSVP'd in the widget, and entered any pre-event giveaways that float your boat. Each of these prize packages includes $70 in treats, food and supplements; what's not to love about that?!!! And the grand prize jumps to over $120; wowza!
With so much to talk about in just one hour, your challenge will be to decide
in advance,
which handles to watch. I'm going to try to help with that decision today. My goal is to help you understand which handles will be chatting about your interests. We'll have experts from
Castor and Pollux
on hand to answer your questions, prizes to win, facts about the National Organic Program and how it protects your pets' food, interesting info on NEW products, and much more. With all this going on, you definitely need a road map. Here's it is: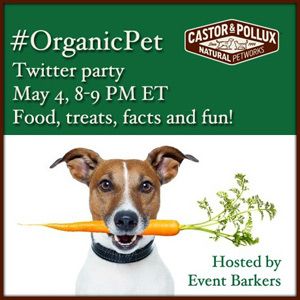 I suppose by now you're understanding what I meant when I said we have a lot to talk about! We'll be speed-Tweeting, for sure! Strap on your running shoes and grab a Starbucks before party time; you may need it! See ya early for checkin; we'll be online about 7:30 PM ET to greet our guests.
If you're still looking for more details about a specific product that we're highlighting during the party, be sure to check the list above to determine which handle will be focusing on that product. We look forward to seeing you there. I hope you enjoyed the collage of all the goodies you could be winning. Is Fido drooling, yet?
Here's to your #OrganicPet,

PS-I have reviewed or profiled several of the products involved in the #OrganicPet Twitter Party. If you're struggling with decisions on who to follow, check out these:
Butcher and Bushel Review coming May 2
Event Barkers is producing this Twitter Party on behalf of Castor and Pollux, their client. As my primary advertiser, I am providing my services for this Twitter Party gratis. All opinions shared are completely my own.
Prizes will be provided and shipped by the sponsor.