by Carrie Boyko, CEB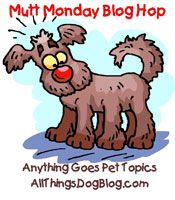 Finally the day is here--Mutt Monday is excited to tell you that today more of our #BarktoSchool information will be shared. And tomorrow, there will be a full blown spill--sponsors and all! Watch the blog around noon for more info today and be sure to pop in tomorrow afternoon for even more details.
For now, feel free to join in and share your blog's last week's posts. Feel free to add multiple listing if you have them. Happy tails!