by Carrie Boyko, CEB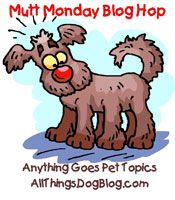 Hey gang! I got a confusing email this weekend that got me to thinking. Apparently some of you may be a tad bit confused by the Rafflecopter. It's harmless, really! No matter what you click, it will let you know if you've done something wrong.
Generally, the Rafflecopter is a pretty reliable method for tallying giveaway entries of all sorts. I find it saves me lots of time, and other readers have shared this same sentiment. If you find you've got questions, please write to me at my blog email: AllThingsDogBlog@gmail.com. That's pretty easy to remember, but you can also use the Contact Form button in my menu bar. I've linked it here for your convenience. These are much easier place to discuss your problems than Twitter. I find that 140 characters is not enough to explain most answers :)
Today the Rafflecopter entries for #BarktoSchool have opened here. Hope to see you all there on August 12 for lots of training tips, nutrition info and prizes--over $1000 in great stuff!