by Carrie Boyko, CEB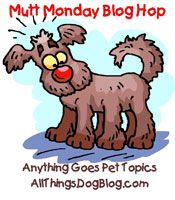 What an exciting week it is here at All Things Dog Blog. The only downside is that Tanner and Oliver will be staying behind as I travel to Salt Lake City for the Blogpaws conference. During this event I will learn more about pet products and social media, while having the opportunity to mingle with other bloggers. What fun it will be!
As always, today's listings review my recent posts as well as those who wish to tag along and list theirs. Bloggers are welcome to list as many recent posts as they wish. Thanks for joining in and please enjoy a good read.
Happy tails!