by Carrie Boyko, CEB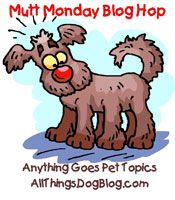 Mother's Day was certainly a whirlwind at my house--flower deliveries, cookies, brownies, lunch out and a cookout with my family--by my family. That's deliciously luxurious! Tanner and I took care of his pool and Oliver spent a good bit of the day napping near me while I feverishly prepared for an upcoming trip. So much for a day off!
The RSVP post for #EBTweets Twitter Party is open for business and has this blog hopping, to be sure. Tomorrow you'll find more excitement when the Rafflecopter giveaway is launched. I'd love to hear from you: If you win a prize, who will get it? Your pet, a family or friend's pet, or a Rescue? It's your choice.
Enjoy your tour of my last week's posts, and be sure to let other bloggers know how you found them if you visit their posts listed here. Happy tails!