by Carrie Boyko, CEB
© All Things Dog Blog
Tanner's Spring Footwear Option
Tanner seems to have enjoyed his new Chick slippers from Easter. He actually left them on until they fell off! I guess cushy footwear is nice for dogs too. Tell me about your dogs; do they like wearing booties?
We hope you all had a wonderful weekend, whether celebrating Easter or Passover. Today's Mutt Monday will allow you to check up on some other blog's prior week posts.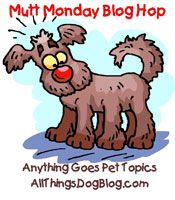 Watch for upcoming articles from our Ask the Dog Trainer, Michael Baugh, and a Pet Solutions piece by yours truly on preparing for a vacation away from your Fido.
Happy tails!