by Carrie Boyko, CEB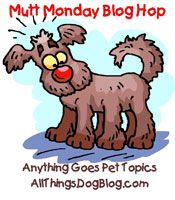 ***Oops!*** We opened early. Join in anyway. We'll still remain open till Monday night at midnight. Enjoy!
If you're new to Mutt Monday, you'll find here an array of pet-themed posts from blogs around the pet blog world. I invite bloggers to share their last week's postings here, as a way to help you, the reader, find them. Feel free to thank the blogger whose posts you most enjoy by clicking the "Like" link below the thumbnail image. Enjoy your exploration and feel free to leave any thoughts behind in the comments section. Happy Mutt Monday!