by Carrie Boyko, CEB
With the holidays officially upon us, U.S. pups and kitties are even more at risk of health issues from excessive weight than ever. Our pet's overweight issues are easier to deal with than our own, given that they do not have the ability to feed themselves. Here are a few tips for watching your pet's weight through the holidays and beyond:
Skip or eliminate human food scraps as treats

Read pet food package directions to determine correct feeding quantity for your pet's size and breed.

Consider your pet's activity level when establishing a feeding quantity. Adjust accordingly for couch potatoes as well as for your highly physically active pups.

When using training treats for motivation and reward, select low-calorie, low-fat choices such as TerraPaws, rather than cheese or hotdogs. The latter may be tantalizing, but it will have a negative affect on your pup's waistline, unless appropriate exercise is added to his regimen.

When filling Kongs for quiet, alone time, use high-fiber, high-protein choices. Perfect fillings that may be available now are your leftover sweet potatoes (mashed) mixed with some leftover white meat turkey or kibble.

Compare your dog's kibble to better brands for an educational experience that may find you choosing another brand. We recommend Organix by Castor and Pollux to help your pet avoid the unhealthy toxins found in traditionally produced meats, fruits and vegetables.

Add an extra long walk to your daily activity and be sure to take Fido along. Not only will you work on both of your healthy waistlines, you'll also bond in ways you may not have imagined.
Following are some interesting facts on pet obesity. Read and learn, and best wishes in working on your pup's healthier lifestyle for 2012. Happy holidays!

Pet obesity graphic produced by Matt Beswick for Pet365 - a UK stockist of dog jackets, collars and accessories. Click here to view the full post.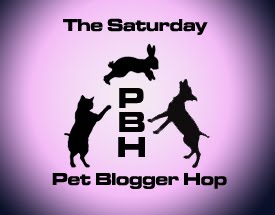 This post is part of the Saturday Pet Blogger Hop sponsored by Two Little Cavaliers, Confessions of the Plume and Life with Dogs. You can link up here or visit their sites to connect to the hop.