by Carrie Boyko, CEB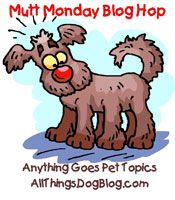 © Carrie Boyko
Yes! I completely missed Mutt Monday. I suppose I need to set a timer or train Oliver to hit the publish button. So here it is Mutt Monday on Tuesday and I get to give away some Doggyloot! And also some Dog Pack Snacks. How cool is that? I feel like Santa or the Tooth Fairy.
Just for RSVPing for our #BarkFriday #Twitter Party, one lucky winner has already won a surprise gift. What's even more cool is that there will be more of these surprise drawings before the #BarkFriday event on November 25th. No, I'm not going to tell you how many, but I will tell you there will be more than ___ ___ ___ ___ ___. Can you guess?
To win a surprise RSVP drawing you must add your Twitter handle to the RSVP list at the announcement: BarkFriday Twitter Party Sure to Unleash Holiday Savings.
© courtesy doggyloot.com
So, I suppose you want to know who won this super cool prize. First, let's tell you more about the prize itself. Doggyloot has donated $25 in credit to this winner to spend at their site. It's easy and fun. I've tried it....and loved it!
© courtesy DogPackSnacks.com
Dog Pack Snacks has provided a Snak-pak of treats for you to try with your Fido. Our winner gets both these great prizes just for signing up to join us for #BarkFriday. And your Twitter handle is @
ILvMyChihuahuas. I'll be in touch today to let you know about your surprise gifts and also to request your mailing address and email for you to collect your winnings. We look forward to seeing you all at #BarkFriday.

This post will be linked up to Tasty Tuesday at two of our Fido friend's sites: Sugar the Golden Retriever and Kol's Notes. Stop over and check out all the posts that have something to do with "Tasty". Yum! Oh, and THIS Mutt Monday will remain open through Wednesday morning 9 AM EST just because I'm calendar-challenged this week. Sorry for any confusion.