by Carrie Boyko, CEB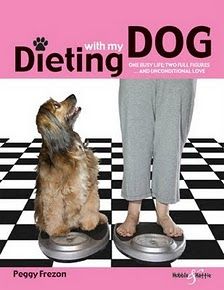 © Peggy Frezon
Peggy Frezon's book has a popular following. It is no surprise that there are others who find themselves in the same predicament. Fido can, and often does; turn into a good partner for many a would-be dieter. In this case, Kelly, Peggy's dog, also needed to get fit. This is a wonderfully inspirational story about a dog and owner getting fit together.
If you too would like to gain inspiration, ideas and strategies from Peggy's experience, you can purchase a copy of her book, Dieting with my dog, at this link. More info is available at Peggy's guest post where the giveaway was hosted.
Two of you will be receiving a free copy from the giveaway, courtesy of Peggy. Be sure to stop by her site, Peggy's Pet Place, to thank her for offering her books. You can also find Peggy on Facebook and Twitter. I hope you enjoy reading the book and find much inspiration.
Congratulations to Lori M. and Sharon G. for winning free copies. I'll be in touch to request your address. Thanks again for participating. Happy tails!