by Carrie Boyko, CEB
Be sure to stop by
Btc4Animals
and thank them for this quarterly awareness day. I hope you'll find time to read through some of the other postings at their site today.
Have you read your state or county's website on the water quality of your area's natural waterways? Well let me clue you in. We're in a sad state of affairs. Runoff is our largest offender. Drainage after a hard rain such as last weekend's 20-hour-long deluge in Central Florida carries all manner of pollutants through our drainage systems and right into our lakes, rivers, streams and retention ponds.
When tested, these runoff waters have picked up, among other no-nos, fertilizers that cause algae bloom, pest control chemicals that poison fish and waterfowl, and you guessed it--doggie doodie. That means coloform bacteria is carried in small brown packages right into our recreational areas for swimming, boating and fishing.
Think again if you're telling yourself you don't live near a waterway. The maze of drainage systems in any developed community--urban or suburban--will amaze you if you look into it. It's like this unseen rat's maze under the streets that carries rain and floodwaters to its final destination in our favorite watering holes. What a shame that some pet owners are contributing so unknowingly to this pollution.
It's not too late, though. You can do your part. I'll start with the toughest idea and move toward the easier. Here's a simple plan: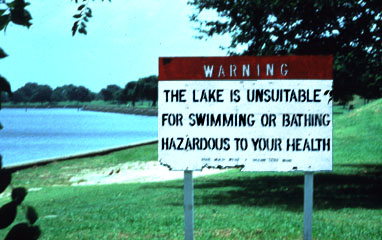 © courtesy pontchartrain.net
The point is you do have choices. You can contribute to a cleaner world moving forward, or you can tell yourself it's just one bag each time you put it in the trash. Next time you visit your nearby lake or riverfront, don't be surprised when you see a sign posted " No Swimming. Water Tests Reveal Coloform Bacteria". This doesn't just mean you; it includes your dog too. Where will you swim now?
Need help getting started? Check out my giveaway at Pawsome Pet Poop Prizes! You'll also find this link in my center sidebar. And good luck to you in whatever way you to choose to do your part. You've taken the first step by reading this Be the Change for Animals post. Grab the badge and write your own cause. It's good karma.