by Carrie Boyko, CEB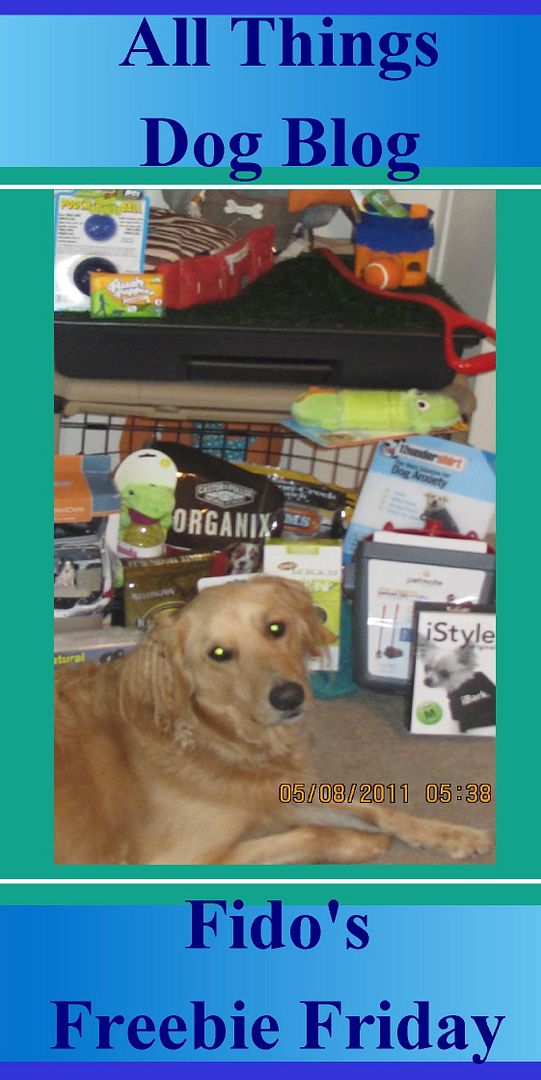 Are you ready to do some hopping? How about shopping? Or maybe you're a blogger looking for a way to promote your giveaways. No matter the reason that you've arrived today, we've got something for everyone. We launched this new event just two weeks ago, very softly. Careful not to make too much hoopla until I was sure all the kinks were out, I'm glad now to say that the plumbing appears to be working quite well.
Doreen of Doggies and Stuff will be joining me as co-host to make sure that you get ample opportunity to find fun pet things here, or to promote your blog's giveaways. We
'll be getting the word out to the pet community soon, so expect to see a bit more participation each week as this event continues to gain momentum.
Feel free to pass the word, Fido's Freebie Friday is out to be 'Giveaway Central'. Also, for a limited time, I'll be posting many of the giveaways to my own FB page, as well as Tweeting them to my followers, so you'll be getting extra promo. How can you pass that up?
Without further ado, let's get to it. There are just 2 rules for link ups:
The Fido's Freebie Friday Blog Hop is open to posts about
giveaways, drawings, prizes, and freebies
for
pet products or services only
, including pet-related items for owners.
Please

post the badge or a link to this post

in your Fido's Freebie Friday blog post and invite your readers to visit their hosts, All Things Dog Blog and Doggies and Stuff

. Comments are encouraged!



The Fido's Freebie Friday Blog Hop will

open each Thursday afternoon by 4 PM

and close at midnite on Fridays. During these hours you may add your pet related giveaways to the hop with a link directly to your giveaway post at your blog. This blog hop is ONLY for free pet products or services. It may include any contests that involve a free, pet-related prize (photo contests, guessing games, etc). If you have multiple giveaways, feel free to post each of them.
Winners to Be Announced Friday
If you're checking in to see who won the 4 dog-themed handbags, this announcement will be made tomorrow. Entries close at 5 PM Thursday, June 16. Good luck!