by Carrie Boyko, CEB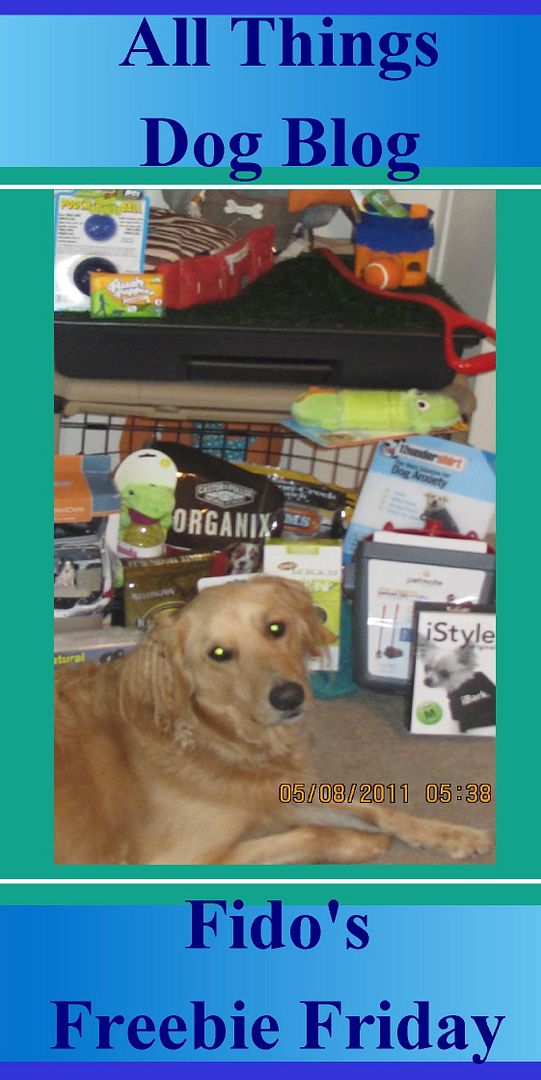 Welcome back to Fido's Freebie Friday. Doreen and I are enjoying watching this little event begin to grow. Thank you all for your support and visits, comments and entries. We appreciate and enjoy your appearances here.
To assist you with questions and problems, we have created a "Help Page" full of information and tips on connecting up to the Blog Hop. Visit this page if you are looking for assistance in getting started, or simply have questions.
Our goal in starting this hop was to provide a place for pet lovers to seek out the best in pet giveaways from pet bloggers all over North America. We want to make it easy to be
found and simple to participate for the bloggers, as well. That's why there are only 2 rules for linkups:
The Fido's Freebie Friday Blog Hop is open to posts about giveaways, drawings, prizes, and freebies for pet products or services only, including pet-related items for owners.
Please post the badge or a link to this post in your Fido's Freebie Friday blog post and invite your readers to visit their hosts, All Things Dog Blog and Doggies and Stuff. Comments are encouraged!
The Fido's Freebie Friday Blog Hop will open each Thursday afternoon by 4 PM and close at midnight on Fridays. During these hours bloggers may add pet related giveaways to the hop with a link directly to giveaway posts at their blogs. This blog hop is ONLY for free pet products or services. It may include any contests that involve a free, pet-related prize (photo contests, guessing games, etc) including pet-related items for pet owners, as long as the contests are family friendly.
If you have multiple giveaways, feel free to post each of them. If your blog is hosted with Wordpress.com, you will find the code for this hop at our Help Page.
And for our
visitors and readers
, please enjoy a look around at the possibilities, and feel free to leave a comment to let us know how you found us. Happy tails!
Individual rules of entry and guidelines for winning may apply to each listing. All Things Dog Blog takes no responsibility for the legality of the rules governing the listings on other sites and giveaways that are posted here. We simply provide this forum as a gathering place for pet product giveaways to be offered.