by Carrie Boyko, CEB
© Carrie Boyko
Fun Prizes for Feminine Fidos
We're going to have some fun today. Giving out prizes is always a great time, but girl goodies is something I don't get much of these days. This just adds a little bounce to my step, even with the boring job of packing up the mailings!
© Carrie Boyko
Baseball Themed Bow
Shall we get started? Okay, let's start with the Baseball Bow, as the first drawing. This adorable, sports-themed bow from Puppy Kisses, is perfect for the baseball-loving owner, and will be oh, so cute on the the Bow Wow in the family.
Our winner of this great tomboy bow is Princess Sarah. Now there's just one thing left to say about this: "Lets go out to the ball game!"
Next up are the 3 Hot Pink Fabuleashes. It will certainly be easy to spot these winners on the street, with this glitsy glamour showing off their adorable faces. The three lucky pups to get a beautiful Fabuleash are: Ruby, Beth Lee from Facebook, and Kiko.
© Carrie Boyko
Burberry-Look Set
Winner #5 gets the Burberry-look collection, sure to align her with the designer crowd.
I wish I could offer up Paris Hilton's phone number, but sorry--it's unlisted!
This lucky winner gets the Burberry-look bow from Puppy Kisses, along with the beautiful, coordinating
tan Fabuleash; it's simply fabulous!
Be sure to enjoy this ensemble with a day on Park Avenue. Shopping is the perfect way to show off your fashion savvy. Congratulations to Maizey for winning this pairing.
© Carrie Boyko
Puppy Kisses Polka Dot Bow
Pairs with Fabuleash in Hot Pink
Wrapping up this fun, fashion bonanza is our Hot Pink Polka Dot Ensemble, again a combination of a Puppy Kisses bow and a Fabuleash in beautiful hot pink matching colors. Now this, ladies, is the feminine couture embodied--perfect for your Spring and Summer sun-dresses. I'm sure you're all clamoring for this one, but only one lucky Fido wins the goods: Daisy
Winners all happy? I'm sure. This was a ton of fun, as I was able to enjoy it vicariously through you. With only male dogs in the house these days, I don't get much fru-fru! Bandanas is the extent of our fashion statement.
Winners need to get in touch at LetsAdoptaDogPark@gmail.com to provide addresses. I'll notify you if I have contact information. Packages will go out within 1 week of receipt of address. Enjoy, and feel free to leave a comment about your beautiful feminine fidos.
Before I head out, I'd like to leave you with a few extra blogs to explore. Blog hopping is a ton of fun, so feel free to enjoy the bounce. This Sunday's hop is called Swinging By Sunday, and is sponsored by Chubby Cheeks Thinks! Be sure to stop in and thank them for hosting.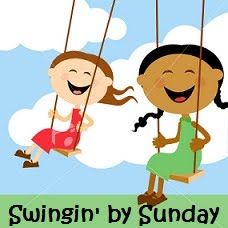 Full disclosure: The Fabuleash and Puppy Kisses products described in this post have been donated to All Things Dog Blog for an independent review. I have not been paid to provide my opinion of these products, and the opinion provided is my own. Thank you to Lizzi and Cocoa of Cocoa's Corner from 20 Something Saver, for their help as models.
Help protect our precious dog parks
© Carrie Boyko, all rights reserved
Follow All Things Dog at Twitter
Find me at Facebook
© copyright Carrie Boyko, all rights reserved
Bookmark this on Delicious