Find me on Facebook
Follow me on Twitter
Write to Dr. Jacki, ASK THE VET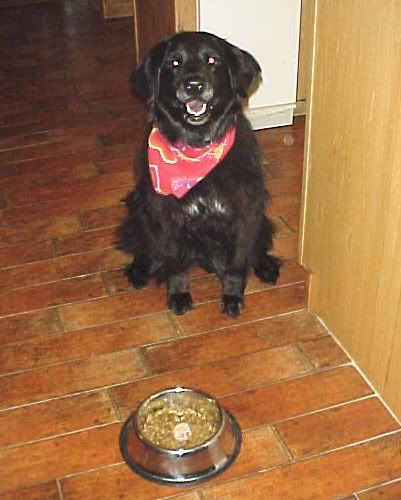 (c) copyright Carrie Boyko 2009
Happily Sits for her Supper
Today is a big day at our house, as Xena is having a birthday. Not just any birthday--her 13th. She is officially a teenager now. In dog years, that makes her about 84 human years, or so I have read.

Looking at the world through Xena's eyes as she has grown older, I have begun to learn a good deal about what to expect for myself. I hope that I will grow older with the same grace that Xena exudes every day. She is always happy, never complains and enjoys every opportunity that comes her way. We should all be so fortunate as to see the world in this happy-go-lucky way.

Not a day goes by that Xena does not cheerfully greet me at the door when I return home, playfully steal my sock and implore me to chase her, or simply enjoy a snuggle while I stroke her fur. It is all this, and so much more, that endure dogs to us, and we owe it to them to return it in kind.

The love, the lessons, the constant affection, all enrich our lives beyond what we can possibly return to them. In telling you, today, about Xena's happy arrival at age 84, I wish to share this message from her perspective. All she has needed or wanted from me is unconditional love in return for that which she has given. I try to return more than she gives. Not in treats, but in the things she really needs: exercise, continued mental stimulation (can we call it training at 13?), and affection. I hope I meet her every expectation, just as she has met mine.

Follow All Things Dog at Twitter
Find me at Facebook